Features & Columns
Brad Leong
The Palo Alto director makes his feature debut at Cinequest with 'Dorfman'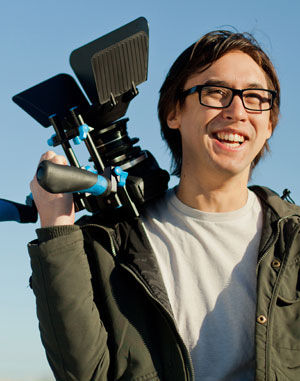 Famous as the youngest director ever to show a film at Tribeca, Palo Alto's Brad Leong is making his feature-film debut at Cinequest with Dorfman. It's an amiable comedy about a San Fernando Valley single girl coming up for air, written by Wendy Kout (writer for TV's Anything But Love and Mork and Mindy).
Sara Rue (Brenda from TV's Rules of Engagement) plays the put-upon Debbie Dorfman. She's under the thumb of her amoral brother, whom she works for, and she's also tending to her still-grieving widowed father (Elliott Gould, who will show up in person at the festival).
Leong was brought on to Dorfman on the basis of his 2007 debut movie Palo Alto, the film that brought him to the Tribeca Film Festival. It's visible now on Netflix, retitled as Palo Alto, CA. This coming-of-age film takes place during a Thanksgiving weekend all-nighter. Some friends return from their first year of college to reconnect with old party-pals.
Leong and co-writer/associate producer Tony Vallone include an unusual homage to American Graffiti in the driving scenes with the late Eve Brent, a hard-working actress of the 1950s. She at one point describes a white T-Bird she once had back when she was young. The allusion to the Candy Clark character in George Lucas' movie is clear.
Leong shot some 90 percent of Palo Alto in and around his home town. The scenes with the big-name guest star Tom Arnold were shot on the USC campus at night. Leong and his stars caravanned to South California to film these scenes.
Leong explains, "One of the reasons we wanted to do Palo Alto locally is that we thought the film should be told right where it originated. They're super nice here, too. Everything costs money in L.A. One thing that happens down there is that if yard workers see a camera crew, they'll turn on their leaf blowers whether they're working or not. It's because they're hoping someone will pay them to turn the blowers off."
Leong does now what he's been doing for years, commuting between the Bay Area and L.A. When he was attending Palo Alto High, Leong used to go to L.A. to work on films. After graduation from high school, he went to USC Film School, scheming with old friends to make a feature film.
"We didn't know anything really about what to make and what was right. Being 21, we made the kind of movie that we wanted to watch. We got into some good festivals, and Palo Alto is one of those few indie films that ended up getting a distributor."
At first, Dorfman seems like autobiographical work, too. Since Leong was spending more time in L.A., one supposed there'd be personal elements in this story. Dorfman is a kind of lifestyle comedy, the discovery by a suburbanite of downtown L.A.
"I really do like the female perspective in Dorfman," Leong says. "Alice Doesn't Live Here Anymore is one of my favorite Scorsese films. And I did similarly fall in love with downtown L.A. In most cities, the most concentrated part is downtown, but that's not what L.A. is like. As everyone knows, USC is in a shithole neighborhood, and I spent most of my time in the West Side when I was going there. When I started working on Dorfman, I got introduced to downtown L.A. I'd never seen what was going on down there, and I was absolutely surprised."
Leong was actually brought aboard as director by the team of writer Kout and Leonard Hill. Hill, the former VP of Movies for ABC in the late 1970s, is a producer credited with dozens of made-for-TV films.
Phoning in from Los Angeles, screenwriter Wendy Kout said that she wanted to try working in longer-form writing, after her long career in TV. "Then began decades of development hell. That's when I ran into Len Hill."
Kout encountered producer Leonard Hill when both were dining at a downtown L.A. restaurant.
"What are you doing down here?," Kout remembers asking Hill. "He told me, 'Well, I kind of own the block.' After dinner, he showed me this world, this beautiful block and this building and the rooftop—that skyline that's in Dorfman.
"I said, 'Len, this is a really wonderful arena for a film'—and that's when we had this concept of placing the story in the midst of the urban center. We needed someone who could execute our vision, and that's when we were introduced to Brad through his first feature. Fifteen minutes into watching Palo Alto, we said, 'We have to meet this person.'"
Getting Elliot Gould aboard was Hill's doing. "He and Elliott go way back," Kout says. "Getting him was essential to the movie—you know how one miscast actor can throw a movie off."
Movies like In Search of a Midnight Kiss, (500) Days of Summer, and In Time have sought the romance in L.A.'s 1920s-era downtown, semiabandoned for years, now being preserved and refurbished. But Dorfman's use of the L.A. subway system gives the film its own particular look.
"It was not cheap," Kout says about the location work. "It was hard for a low-budget indie, but we felt we had to have as much authenticity as possible. The Metro was very important—it's Alice's rabbit hole, a tunnel to an exotic place. I'm a big proponent of public transit. I'm a bit like Deb. I didn't use the Metro before. But now, who needs a car?"
Kout calls Dorfman "quite a collaboration. In addition to being a filmmaker, Brad is also a brilliant engineer. And Len has the same quality, working on film but also developing and repurposing real estate. We're hoping to use those downtown backdrops as a creative pallet for new ideas."