Features & Columns
Cinequest Features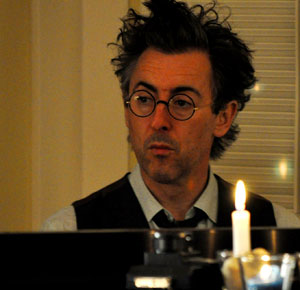 Almost in Love
(U.S.; 83 min.)
Two nights, separated apparently by a couple of years, shot in a matching pair of approximately 45-minute unbroken takes. On the balcony of his Staten Island dwelling —Sasha (Alex Karpovsky) is enjoying a sunset barbecue. The meal is ruined by the arrival of Kyle (Gary Wilmes), the ornery old friend who had a short-turn affair with Sasha's former lover Mia (Marjan Neshat). In the second half, we meet the three again, surrounded by a different crowd (among them is Alan Cummings, playing a celebrity of some sort); this time the party is still going late at night at a beachside mansion at the height of summer. Does director Sam Neave show signs of leaving the gravity of the film-festival circuit in this, his third feature film? Yes and no. Neave's undeniable skill as a editor patches the conversations together (quite acute: an offscreen pair telling a story of a man blinded by a stroke, matched with the sight of an ex-couple feeling their way blindly through a sticky social situation). If Neave has a fine ear for New York chat, his sense of humor isn't electric. Ultimately, the lack of observation of people outside this luxurious world with their hill-of-beans romantic problems eventually makes one think, By God, what we have here before us is the new Henry Jaglom. (RvB) March 3, 9:15pm; March 6, 6:45pm; March 0, 12:30pm; all at Camera 12.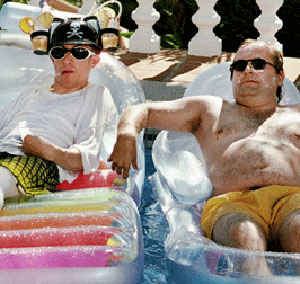 Come As You Are
(Belgium; 108 min.)
Based on the life of special-needs pro-sex activist Asta Philpot, Come As You Are follows a trio of horny and physically disabled young men from their parents' homes in Belgium to Spain: near-blind Jozef (Tom Audenaert), quadriplegic Philip (Robrecht Vanden Thoren), brain-tumor-burdened Lars (Gilles De Schryver) and their sullen driver, Claude (Isabelle de Hertogh). Their destination is a Spanish brothel catering to their needs. Director Geoffrey Enthoven avoids both mawkishness and pity, partly by keeping the sarcastic Philip far from likeable. The performances by Schryver and Hertogh are especially affecting. Come As You Are is in the same school if not the same class as Y Tu Mama Tambien. (DH) March 1, 7pm, California Theatre; March 6, 9:45pm, California Theatre; March 9, 7pm San Jose Rep
Delusions of Grandeur
(U.S.; 95 min.)
Bay Area filmmaker Iris Almaraz's debut feature is a quirky, kitschy coming-of-age story whose heartfelt earnestness never quite manages to balance out the meandering narrative and uneven acting. Set in mid-'90s San Francisco, Delusions of Grandeur follows Lucy (Leana Chavez), a grungy young woman grappling with psychological issues and sexual frustration. Chavez's occasionally grating performance as the petulant Lucy often makes the supporting characters seem more engaging than the protagonist. These peripheral figures include the transgendered Illusion (Salvador Benavides) and endearingly awkward barista Mario (Ronnie Alvarez). Awash in dreamy indie-rock anthems, Lucy's emotional yearning for her estranged mother coupled with the film's off-kilter aesthetic brings to mind Juno and All About My Mother. Despite the parallels, Almaraz still emerges as a promising new storyteller. (MS) March 3, 9:45pm; March 8, 4pm; March 9, 9:45pm; March 10, 4pm; all at Camera 12.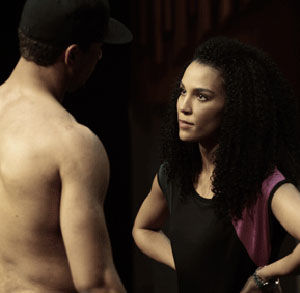 Five Hours South
(Italy/U.S.; 94 min.)
Like William Holden in Golden Boy choosing between boxing and violin playing, Luca (Andres Londono) must decide between break dancing and policing his native Pulian coast of Italy. Sounds farfetched, but Five Hours South is based on a mostly true story. The title refers to the travel time between cosmopolitan Rome, where Luca is recruited for a dance troupe, and his place on the beach. The beauty of Luca's backwater hometown undercuts the central conflict between conventional and artistic life. Who wouldn't want to live on the coast of Italy? Yet director Mark Bacci's attractive cast and Flashdance-fast choreography ably spin around any plot holes. (DH) March 4, 8:30pm; March 6, 7:30pm; March 9, 5pm; all at Camera 12.
George the Hedgehog
(Poland; 80 min.)
Based on the comic books about "Jez Jerzy," a rutting hedgehog who shows signs of emulating The Simpsons' "Poochie" with his backward baseball hat and skateboard. But this critter (a smiling, bristly scrotum on two legs) is apparently the idol of Polish youth. So a plot is hatched by a scientist to clone him. The little Jez Jerzy is foaming and flatulent and more badly behaved than the original. The cartoon plays out in wavery computer animation of paper cutouts. But the rare Polish gift for caricature shines in this shite-life look at Warsaw, in the meaty, drunk faces of the rabble; in the way a discarded condom flutters like a banner around the neck of a beer bottle stuck in the mud; or in the strangely soaring moment when a fleet of inflatable love dolls profane the Catholic skies over Poland's capital. The sexual politics may be questionable, but both horrible sexes eventually get what's coming to them. (RvB) March 2, 4pm; March 9, midnight; March 10, 9:45pm; all at Camera 12.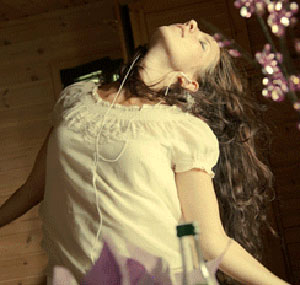 The Good Son
(Finland; 87 min.)
A delicious blend of black comedy and dysfunctional family drama, coupled with the occasional hint of psychological thriller, the titular character of The Good Son is anything but. Centered on a single movie-star mother who embarks on a weekend getaway with her two sons following a media scandal, the sleepy beach-town setting becomes fraught with tension thanks to the intimate cinematography. From the tightly framed close-ups emerge standout performances from Elina Knihtil– as the outwardly caring mother gradually reduced to insecure narcissist, and Samuli Niittym–ki as her elder son who exhibits increasingly violent behavior directed at his mother's new lover. Yet for all director and co-writer Zaida Bergroth attempts to build toward the family's dark, downward spiral, the film's effectiveness is often sabotaged by scenes that go on for too long and dissonant elements that seem silly rather than bleakly ironic. (MS) Feb. 29, 9:30pm; March 1, 4:45pm; March 4, 11am; all at San Jose Rep.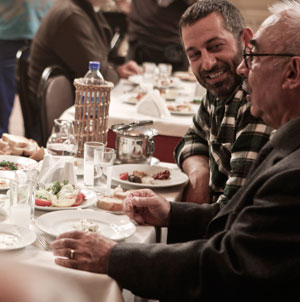 The Hunting Season
(Turkey; 143 min.)
Over the opening credits, the camera tracks across a garbage-strewn swamp toward a woman's severed arm—a perversion of the lady in the lake. Although this Turkish policier doesn't maintain the dark lyricism of its opening scene, a trio of homicide detectives doggedly engage in the title "hunt" for the girl's killer. The chief inspector (Sener Sen) is bespectacled and persistent, like George Smiley. The grizzled veteran cop (Cem Yilmaz) succumbs to his temper. The rookie (Okan Yalabik) has difficulty washing away the stench of corpses. Strong performances and high production values overcome a script that needs trimming and an overworked title metaphor. Police procedurals seem more sinister when a possible murder motive is "honor killing." (DH) March 2, 2pm; March 8, 9:30pm; March 9, 6pm; all at Camera 12.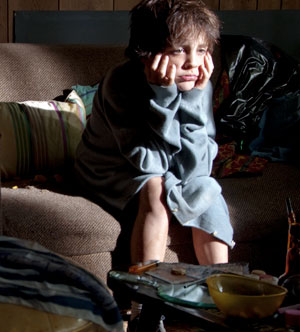 La Otra Familia
(Mexico; 135 min.)
What does a no-kids gay male couple in Mexico City have to do with a crack-whore single mother? People who saw Amores Perros know better than to ask that kind of question, because they'll soon find out. The just-married "Chema" (Luis R. Guzman) and Jean Paul (Jorge Salinas) end up unofficially fostering Hendrix (Bruno Loza), the adorable and strangely untraumatized son of the junkie. Meanwhile, the hip priest who married them, their countrified-as-a-chicken-coop gardener and their pious maid all worry about the homosexual influence on the malleable child. Director Gustavo Loza's intentions are good, but the film is as uninvolving as it is self-congratulatory. La Otra Familia plays like an unfunny version of Almodovar, and it's way too close to the kind of soap operas from which it's derived. (RvB) Feb. 29, 6:30pm; March 5, 5pm; March 7, 9:30pm; all at Camera 12.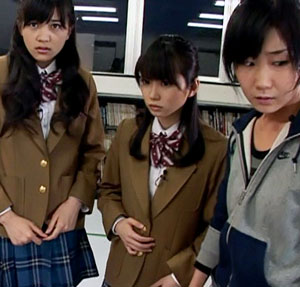 P.O.V.: A Cursed Film
(Japan; 92 min.)
Mirai and Haruna host a giggly TV talk show for teens that includes creepy videos submitted by fans. One of the videos, however, keeps runninng even when the plugs have been pulled. It depicts a ghastly incident from the girls' high school past. At the school, a film crew and a very practical exorcist try to defuse the apparitional possession. After a way-too-long setup, the meat of the film takes place at the school, depicted with hand-held night-vision footage and much running about and stumbling in the half-light. The film is scary in parts, but traverses some too-well-worn territory to be ground-breaking in either technique or impact. (MSG) March 2, midnight; March 4, 10pm; March 9, 10:15pm; all at Camera 12.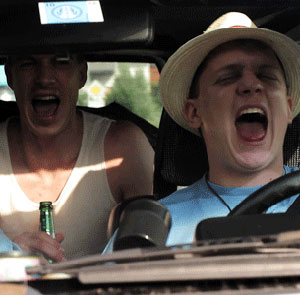 A Trip
(Slovenia; 85 min.)
Slovenia is prosperous enough to produce disaffected middle-class teens. During a drive across country, three former high school friends smash an abandoned car while complaining about their lot. Their aggression and defiance seems a bit forced. Gregor is on his way back to the army in Afghanistan. Ziva (Nina Rakovec) brags that she will try anything. Andrej is a foil, teased about his homosexuality. A Trip goes far on a tiny budget. Director Nejc Gazvoda reveals much in a character's glance or a cutaway shot. (DH) Feb. 29, 7pm; March 3, 4:45pm; March 6, 2:15pm; all at Camera 12.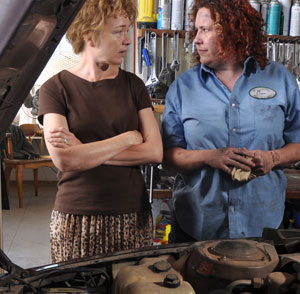 Warrior Woman
(U.S.; 97 min.)
Alice (Karen Young, resembling Annette Bening) is haunted by her mastectomy, juggles her rent and medical bills, and supports her intermittently employed husband on the blue-collar margins of Albuquerque. She spirits one of her ESL students away from an abusive husband into the desert, where they land in a hardscrabble women's community. The symbol-laden dream sequences (snakes!) hew a bit too faithfully to the film's title and to the notion of rough magic, but Young's performance, and the actors around her, are at once tough and inspiring. (DH) March 3, 2:30pm; March 4, 1:45pm; March 6, 11:30am; all at Camera 12.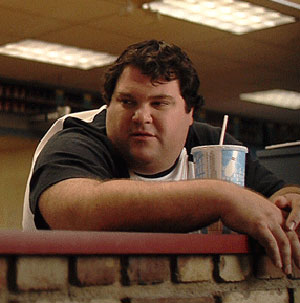 Worth the Weight
(U.S.; 93 min.)
It isn't. The fat in this movie isn't all on obese star Robbie Kaller; it's on the lardy script too, as the movie stretches out a simple big-boy-meets-girl tale till it snaps. In the San Fernando Valley, the 412-pound-plus ex-football player Sam (Kaller) could go for "normal"-size Cassie (Jillian Leigh), but Cassie has a previous commitment with a pretentious fake poet. That's your entire movie, not counting the subplot about Sam's sidekick Miles (Tommy Snider), whose girlfriend (the scene-stealing Constance Reese) is expecting. First-time feature director Ryan Sage spins off the Apatowian slobs 'n' honeys comedy to its logical dead-end. We're prepped for such a tale by the ukulele on the soundtrack. (A, remember good old half-ton ukeist "Iz"? Girls probably went for him, even though he was a dirigible.) (RvB) March 2, 9:30pm, San Jose Rep; March 4, 4pm, Camera 12; March 7, 11:45pm, Camera 12.