Features & Columns
420 - The Holiday Celebration
No one's quite sure why, but 4/20 is now the biggest cannabis celebration on the calendar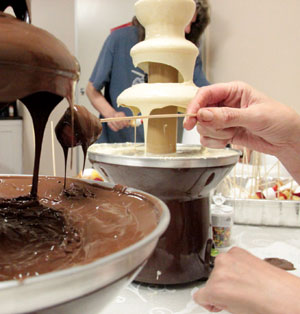 The origins of marijuana's annual holiday are shrouded in myth but widely thought to be code for 4:20pm, the meeting time at which a few "stoners' would gather at a designated location to smoke.
These days, 420 is used in so many contexts related to cannabis culture that it's easy to lose track. The term "420 friendly' describes a person comfortable with a marijuana-smoking mate on a dating site.
A search of Craigslist with "420' leads to every product and service imaginable. Senate Bill 420 was enacted into law following the passage of Proposition 215, which legalized cannabis for medical use in California.
So, in the tradition of co-opting everything 420-related, April 20 has become to many an annual holiday. Not surprisingly, many of Silicon Valley's medical cannabis collectives, smoke shops and grow shops plan to join in the celebration of the counter-culture holiday in the most mainstream of ways: holding a "SALE!'
Paramount Imports, San Jose's venerable smoke shop, offers one of its best sales of the year in conjunction with the cult holiday. Store manager Casey Sargent says 4/20 is traditionally one of Paramount's busier days. "We expect to get more of everyone coming in—new customers, regulars, folks that haven't been back in awhile,' he says.Ê
Even grow shops—stores that sell all manner of equipment and nutrients for growing plants hydroponically—are aware of the traditional bump in business on 4/20. These stores tend to be wary of any public association with cannabis due to federal laws, which still deems the plant illegal, but one "urban gardening' store plans to offers a not-so secret discount—at least now, anyway—to Metro readers who mention the paper.
"Our prices are heavily discounted to begin with, but this way we can support our customers that are shopping because it is 4/20,' says Andy Gac of San Jose Hydro.
(We'll now leave it to you to guess which grow shop.)
If 4/20 is the day you plan to join "the movement,' it literally can take less than an hour to go from seeing a doctor, getting a card, visiting a collective—most of which will offer 4/20 discounts on top of new patient discounts—and returning home. You'll hardly notice the hands move on a clock.
Wherever you end up Friday, though, you won't need a watch to know what time it is.
Protest for Nonsmokers
Even if you're not interested in smoking, eating edibles or any other form of ingestion-related celebration for 4/20, don't feel left out. Cannabis culture can be experienced through watching the films that celebrate one of our country's most popular forms of civil disobedience.
Instead of eight hours of work on Friday, why not spend the day watching these canna-classics:
Fast Times at Ridgemont High (1982)—A pre-Oscar Sean Penn as Spicoli and Ridgemont beats Lincoln 42-0.
Pineapple Express (2008)—Rosie Perez as the bad cop while Seth Rogen and James Franco let the monkey out of the bottle.
Half Baked (1998)—Young Dave Chappelle, Tommy Chong as the "Squirrel Master,' Willie Nelson remembering when a dime bag sold for a dime, and Bob Saget persuasively challenging how low someone would go to get high on marijuana.
Saving Grace (2000)—Charming senior British lady lends her green thumb to gardener Craig Ferguson; hi-jinks ensue.
The Union: The Business Behind Getting High (2007)—This documentary isn't a comedy except in the sense that it exposes the humorous inconsistencies related to laws against marijuana.