Features & Columns
Adobe Youth Voices Awards
Students share their music and filmmaking skills at Adobe Youth Voices Awards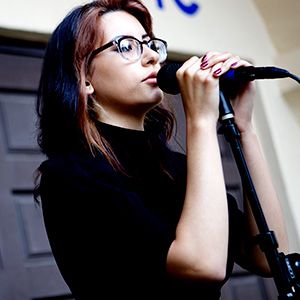 The annual Adobe Youth Voices Live event for 2014 exploded in Montgomery Theater just two weeks ago, allowing high school students from around San Jose to showcase short multimedia documentaries they produced, songs they wrote, or other projects they collaborated on. It was a rocking party.
A global initiative orchestrated by the Adobe Foundation, Adobe Youth Voices is a unique program that could only have emerged in Silicon Valley. Here's the skinny: Affiliated educators all over the world teach storytelling skills and provide digital media tools to kids ages 13-19, allowing them to create projects, films or performances that address issues they care about. The projects can be music videos, short documentaries, performance-based works or anything in between. As a result, kids come away with increased self-esteem, a new belief in their own abilities and the creative thinking skills necessary to tolerate a rapidly changing world. Since the program started in 2006, more than 100,000 kids in dozens of countries have created media projects as a result of this program. Each year there's even a global awards process in which everyone from the public gets a chance to vote. This year's winners will be announced on June 14.
The event at Montgomery Theater showcased local projects from the San Jose area. That same week, similar events took place in Boston, Chicago, Salt Lake City and London.
The young people are super into it," says Patricia Cogley, a senior program manager for Adobe Youth Voices, adding that the kids become more engaged in their own education when participating in this program. We see that they become confident in a lot of areas of creativity. And we define those as developing an idea, being persistent, being flexible, learning how to collaborate. And so we see from the beginning of the program to the end of the program that young people really gain confidence in all of those areas."
To cite one example, the partnership Adobe Youth Voices launched with MACLA and the Black Eyed Peas Peapod Foundation resulted in a three-year satellite program at MACLA, which helped that organization operate a free multimedia academy for youth. In MACLA's building at First and William streets, kids aged 13-18 are now making their own music videos to address social issues while learning vital 21st-century skills at the same time.
In fact, two music videos created in that studio were nominated for the global Adobe Youth Voices Awards in the music category. Both songs, Winter Bones" by Daniela Bogarin and Life Goes On" by Monique Cardenas, were performed that night at the Montgomery Theater party. The girls wrote their respective songs themselves and both tunes were at least as good as anything on commercial radio. Thanks to Adobe Youth Voices, MACLA might now be churning out the next R&B maven, right there in that former '60s auto dealership complex along S. First Street.
What this program allows us to do is to have a free, year-round academy where youth learn skills such as how to write a song, use the software, they learn how to create a video, they learn to dance, they do spoken word poetry," explains MACLA Director Anjee Helstrup-Alvarez. They learn both the technical skills, but they also learn that it's about sharing their stories. It's about giving them a platform to have a voice and share their perspective on the world. And I think that's important at this age."
Yes ma'am. I can testify as to what it's like growing up with no voice, no way to be heard. That was me.
Of course, the kids don't just walk in off the street and tweak knobs on soundboards. MACLA provides mentors with technical skills to help the kids achieve their projects, which helps to create a safe space where teens can come in and meet other kids with whom to collaborate. Many times, a youth might come in to work on something specific, like his or her own song, only to meet others getting their feet wet with video skills, which then leads to a collaboration. As a result, kids learn the vital skills of teamwork and project management. Hollywood (or Adobe), here they come!