Features & Columns
All-Womxn's Showcase Empowers Female Artists in New Spaces
AstraLogik will perform at the third annual All-Womxn's Showcase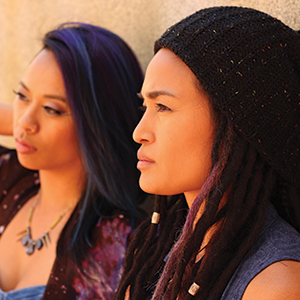 "It was an ode to a friend," says Robertino Ragazza, recalling the first All-Womxn's Showcase. "She was an activist and an artist and she wanted to create a space for women. So the first show was actually on her birthday."
Even though Ragazza's friend had long since passed away, her memory inspired him to curate an all-ladies performance night in her honor two years ago at Caffe Frascati. A full moon illuminated the evening while nearly a dozen women musicians took over the tiny stage by the front window to share their tunes. A few others hawked their creations outside.
When launching the adventure, Ragazza provided a platform to nurture, incubate and empower women artists and aspiring indie entrepreneurial types; he wanted them to collaborate and showcase their talents. As a graduate of the Multicultural Arts Leadership Institute, a development program for people of color engaged in Silicon Valley's arts, culture and entertainment sectors, he brought a skillset that paid off. The event has grown considerably since its humble beginnings.
This Sunday, the third annual All-Womxn's Showcase will transpire Sunday afternoon and evenibng at Forager in downtown San Jose. More than 50 womxn performers, artisans, artists and entrepreneurs will share space and their poetry, comedy and music, in addition to a vendor market, resource fair and visual art show. The "x" in the event's name indicates, among other things, that the show welcomes participants presenting as female even if not identifying as such.
Assisting Ragazza in the production is Quynh-Mai Nguyen, who performed along with Alice Chen in the very first All-Womxn's Showcase, essentially debuting their musical duet, "Q & A." Nguyen, also a Multicultural Arts Leadership Institute participant, helped Ragazza organize the event and was so blown away by the resulting vibe that she immediately came on board to help spearhead the next showcase, which unfolded in 2016 in the garden area of the Mexican Heritage Plaza. This year she's the co-conspirator behind the 2017 party at Forager, but she still fondly recalls the initial event. "I loved the idea, the intention, the spirit," she says. "I loved the relationships and experiences made at Caffe Frascati. The first one was very memorable. As small as that space is, I have never seen it so packed in my life, and everybody, not just women, but men, children, were just there, inside, outside, in the space just to celebrate women."
What's more, Nguyen says that when she attended open mic events around town, men usually dominated the gigs. More often than not she sensed an overt lack of female performers. And the women who did participate were heckled more than the male performers—every single time. Which is why this year several other gigs are already transpiring, all leading up to the main All Womxn's Showcase event. Women are literally taking over the open mic scene—not in a hostile way, but just as a vehicle to support each other.
"This is more like empowerment," Nguyen says. "Let's just all hang out and take up space."
Last year at Mexican Heritage Plaza, with increased attendance and participation, the two organizers knew they were on to something. Many women—even those who didn't intrinsically think of themselves as artists or entrepreneurs—were able to congregate and encourage one another in a safe space, on stage or off stage, and just be themselves without throngs of stoned lecherous cretins hitting on them.
Now, with Forager providing such a large venue, the women will definitely take over. The previous events have already inspired many participants to take the next steps in their artistic pursuits, either more empowered or at least better equipped and connected to achieve their goals.
"They're like young entrepreneurs and we can incubate them and push them to a different level," Ragazza says. "That's exactly what's happened since the beginning. A lot of them went on to other activities. They came out with an EP, or they're producers. It's a great thing that we created that space for them, and then they feel comfortable to move up to a higher level or a better level."
All-Womxn's Showcase
Forager Tasting Room & Eatery
Sun Oct. 15 3pm-11pm
$15
eventbrite.com