Features & Columns
Ao Dai Festival comes
to the San Jose Fairmont
Ao Dai Festival includes musical retellings of Vietnamese legends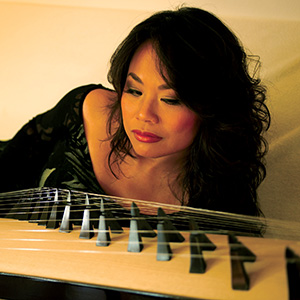 The third official Ao Dai Festival, a colorful multidisciplinary spectacle of Vietnamese history, music, dance and culture, will erupt on several levels this Sunday, both outside and inside the San Jose Fairmont.
The activities unfolding outside in the Circle of Palms are free and open to anyone who stops by, while the formal dinner inside will raise funds for the Friends of Hue Foundation, a nonprofit supporting programs such as an orphanage in Hue, Vietnam, and youth leadership programs here in San Jose. The whole shebang promises to be a ceremonious, regal affair, regardless if you're Vietnamese or not, and especially if you've got a thing for zithers.
Beginning in the Circle of Palms, and for the first time ever outside Vietnam, a traditional Vietnamese wedding ceremony will be fully recreated, replete with the groom arriving on horseback and the bride carried to the show inside a carriage. The ceremony features 100 men and women in traditional Ao Dai costumes, 20 zither players, 20 drummers, a dragon dance and women on stilts, all of which explores and articulates ancient Vietnamese stories.
As the legend goes, the bachelor returns home to his lowly village after passing a grueling test from the king, a test of his intellectual ability, without which the bride would not be allowed to marry him. After traveling for months to the king's palace to take the test, all while the would-be bride stayed home and made silk by the riverbank, the groom now comes home to a fanfare. Upon his arrival, the whole village celebrates and he can marry the bride. Centuries of Vietnamese poetry portray this story, says Jenny Do, the festival organizer.
"This story is the story of a young couple; it's a typical story at that time," Do explains. "She had already promised to marry him, but the poem goes, 'If you don't pass the test, I will never consummate the marriage,' so it put a lot of pressure on the man to pass the test. So we thought with poetry we would explain this background. The entire village would celebrate and construct the wedding, and that's when he could claim his bride."
And that's just outside the Fairmont. Inside the hotel, the formal program will then include an opulent cocktail reception, a jazz performance and a fashion promenade featuring Vietnamese and local designers. Vanessa Van-Anh Vo, a celebrated performer of the dan tranh, a traditional Vietnamese zither, is the musical director for the whole program, which also features a world premiere of "Yearning Mountain," a poetry-in-motion musical story based on another ancient Vietnamese legend.
As that story goes, a woman's husband went off to war and did not return for years, so she took their child up to the top of a mountain every day and waited for him over and over again. Eventually she turned to stone and a statue of a woman and child now sits atop a mountain in North Vietnam. It's an emotional tale known to virtually everyone in the country. Again, much Vietnamese poetry has been written based on this tale. Do says at the Ao Dai Festival, "Yearning Mountain" will be simply another spin on a classic love story.
"It's not meant to be a tragedy," says Do. "But it's pretty much a story of many Vietnamese homes. It's about the spirit and endurance and strength of the women who are always faithful."
Vo's music will bring a half-Eastern, half-Western twist to the entire story. Having already mastered several traditional Vietnamese instruments, worked with luminaries like Kronos Quartet and even won an Emmy, Vo will orchestrate an elaborate conglomeration of musicians, including Japanese taiko drummers, multilingual Moroccan vocalists and a bass player who once gigged with Prince and Sting.
"We don't want to set any limits," Vo says. "You can be anyone from any country, from any background, and be able to find something common to you. The music, the stories, the plots, will help to evoke something in your life that you can relate to. That's what we're trying to do. That's the power of music."