Features & Columns
'Beware! Yokai!' at
Empire Seven Studios
Mysterious spectral creatures take over Empire Seven Studios
for the interactive Beware! Yokai!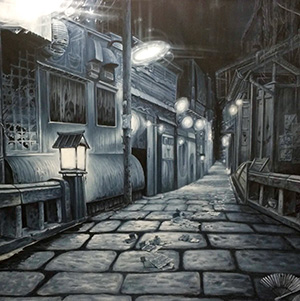 Sometimes the word 'monster' is not specific enough. In the case of this week's missive, the Japanese word yokai often translates as monster, spirit, goblin, ghost, demon, spectral phenom, hysterical animated umbrella or just plain old mysterious creature. Wherever mythology and the supernatural start mingling with the collective unconscious in Japanese culture, yokai are usually present.
In the case of Empire 7 Studios in Japantown, two legends from the tattoo art community, Christopher Brand from UGLARworks in Los Angeles and Takahiro Kitamura from State of Grace Tattoo in Japantown, have curated a slew of spectrally phenomenal artists to help transform the entire gallery into a haunted house of sorts. Beware! Yokai! An Art Exhibit Exploring the Weird, Wild, and Wonderful World of Japanese Yokai opens this Friday during the Japantown Art Walk and will include traditional painting, sculpture, animation and site-specific murals, all to create a transdimensional playground plunging the observer/participant into the yokai realm.
Both Brand and Kitamura acknowledge that yokai means many different things to many different people. 'Monster' just happens to be the de facto blanket term, in English, for lack of any other word.
"'Monster,' to me, means a whole lot of stuff," Brand said. "That could be a vampire. That could be a werewolf. That could be just a really evil human being. It could be anything. There's so many ways you can attach the word monster to anything, in our culture. From my understanding, it's the same. It's a broad-spectrum term. You've got ghosts, you've got tools that have been used and imbued with life-source for over a hundred years that are now a yokai."
Kitamura adds that yokai don't have to be scary. They can be whimsical phenomena just as well.
"As a child growing up to Japanese parents, you'd hear all these other ones that were humorous or funny, or almost like waylaying travelers," Kitamura said. "[Sometimes] dishes will come to life, and it's almost like inanimate household objects can be yokai."
Which is the best thing about a group show like this. With so many people involved, each artist offers his own interpretation of the yokai phenomenon. The pieces will function like actual yokai themselves. Some will be just a little bit spooky, creeping up to brush against your leg a bit, while others might be horribly violent or even rip-roaring funny. One of the artworks might capitalize on peoples' fears and superstitions, or exploit senses of the unknown, while another might simply make us laugh. In that sense, the show will unfold as a giant relationship between observer/participants and the yokai, just as if one is directly immersed in the stories.
As a result, this will not be an orthodox art show where everyone just stands there and passively stares at art hanging on a wall, not that there's anything wrong with that. A participatory experience awaits visitors, just in time for Halloween.
"We're trying to create an environment, not just a space to display artwork," Brand explained. "To create a world within this space, an environment within this space."
Attendees won't be able to high-five anything, but they can expect light displays, video projection, painting, large-scale structures, text accompaniment and more. In one particular case, members of UGLARworks—Brand, along with Evan Skrederstu, Espi, Steve Martinez and Ryan Gattis—all collaborated on a 6'x10' painting. (See photo.) Gattis then wrote a short story about what may be happening before, during and after the scene depicted in the image. The story will be displayed next to the painting.
All of this comes across as a superb example of how much Japantown is coming alive these days. I'd rather see a warehouse full of yokai than one more Asian hipster t-shirt retailer any day.
The Empire 7 gallery space is not huge, however. Would there be room for everything? I thought.
"That's going to be the challenge," Brand said. "How much of an environment can we create in a short amount of time? And how much level of fear and unknown and distraction and disorientation can we give people?"
Beware! Yokai!
Opens Oct. 10