Features & Columns
Bodypainter Trina Merry
Painter Trina Merry creates mobile masterpieces on the bodies of her willing subjects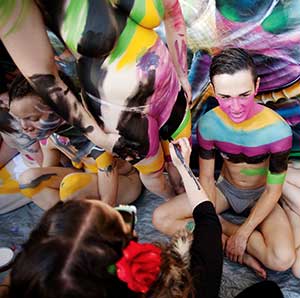 When a rock band asked her to jump onstage in her underwear and get bodypainted, Trina Merry had no idea it would lead to an international career. That was 2006, only seven years ago. A few years later, she arrived at the SubZERO Festival in downtown San Jose, and her career as a bodypainter was off and running.
A textbook example of someone who started locally and now exhibits internationally, Merry paints on human canvases for commercial clients and advertising campaigns. She builds gallery installations and motorcycles out of painted people. What a life.
She says anywhere between three to 15 people a day call her up and ask to be models. Whenever she travels, she puts out casting calls, and people come running, dying to get painted. Sometimes she doesn't even have to pay the models.
"Often people pay me to paint them—a lot of money," she told me. "I get paid to paint naked people for a living."
Again, all of this crystallized at the SubZERO Festival in San Jose, the 2013 version of which just went down last week. SubZERO, by now, is one of the most anticipated events of the year, drawing thousands of folks to a few blocks of South First Street for a European-style counterculture extravaganza of music on outdoor stages, avant-garde creativity, street performances, dancing, vendors, maker-fairing, fire-breathing, beer-tasting, high-tech, lo-tech and overall multidisciplinary circuslike atmospherics. If you haven't heard of it by now—well, you're living in a cave.
Last week, for example, Merry interpreted the Trevi Fountain in Rome on South First Street for the festival. The goddess of abundance was, well, abundant. People walked up and took pictures all night long.
Interestingly enough, in all the years of painting naked people, Merry said she is not a superhedonist like other bodypainters in the business. Art is the inspiration, above all else.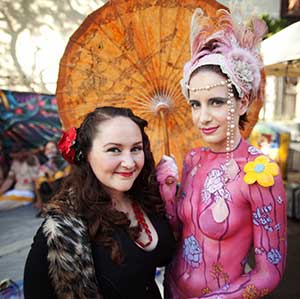 "What motivates other people to paint naked people for a living—other bodypainters that I know professionally—does not motivate me," she declared. "When I see a person that's naked or in clothes, I just see a person."
As we sat there in a coffee shop, I asked what has surprised her the most in her career to this point. What's been the shocker so far?
"What surprises me is the intimate spiritual nature of what I do," she replied. "Because you're so connecting with a person when you make art with them, in that type of environment. That's been the most surprising. And the public's reaction, internationally, virally. I've been on television, around the world, all of a sudden, in a short amount of time. That's something I'm not sure what to do with."
Now that SubZERO is over, Merry heads down south to El Segundo for a show this Saturday at ESMoA. She will construct a mock Martha Stewart country cottage with a human lamp stand, human ironing board, human coffee table and vase, plus a Tiki Room-style man cave with a human tiki statue and a bar with a live painted model pouring foo-foo drinks.
There will also be an urban condo with a human lamp stand, a two-human coffee table and a human couch, as well as a human chair that will form and reform every hour for a performance artist to sit on and relax. Outside the gallery, Merry will park an RV with a painted model camouflaged into a lawn chair and another camouflaged into the vehicle's dining-room furniture.
Every person will wear Merry's paint or that of her crewmembers. That's right, she has a crew. Hell, she may even start a franchise someday. Can you imagine? We would be the bodypainting capital of Silicon Valley.
"Our team is a really big anomaly," Merry said. "Most bodypainters don't have a team. It's just them. I work with a huge-ass team. Our casting crew is anywhere from 50 to 75 people right now—painters and models. As painters, I probably have a dozen good assistants."