Features & Columns
Patrick Pichette: C2-MTL Conference
Patrick Pichette told the C2-MTL Conference about a vision of world change that starts in Mountain View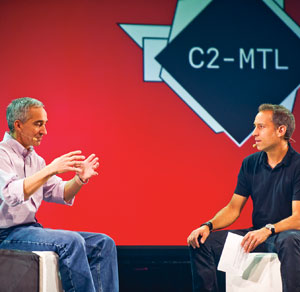 Speaking a few weeks ago at the C2-MTL Conference on Commerce and Creativity in Montreal, Quebec, Google CFO Patrick Pichette recalled his impressions upon first arriving at the Googleplex in Mountain View.
To paraphrase, he said he was blown away with all the company perks. Asking him questions, as they both sat there onstage in a repurposed 19th-century brick building, was conference co-organizer Jean-François Bouchard.
For C2-MTL, an abandoned industrial coal factory complex was converted into a villagelike venue for an ultrasplashy gathering attended by numerous C-level execs, entrepreneurs, filmmakers, designers, animators, neuroscientists, consultants, architects and more, all exchanging ideas on how to be more creative and innovative in the workplace.
Collaboration between left-brain and right-brain thinking and across different fields of expertise steered the entire affair, the presentations, the theatrics, the conversations and the solicitation of the sponsorships.
Not simply another suit-and-tie "summit" with executives talking only to each other in a chain hotel with bad coffee, C2-MTL was part business conference, part Burning Man, part creativity workshop and part disco. I felt transplanted to an alternative Silicon Valley of French Canada, where creativity is the most important human quality.
Luminous art-lounges hosted collaborative breakout sessions, while interactive digital art installations occupied two galleries. Catering staff served quail hors d'oeuvres. Quebecois women in shorts and high heels paraded around with clipboards to make sure the 1,200-plus attendees knew where to go. Fifteen thousand tweets, in either French or English, emerged over the course of four days.
Just one of many high-level interviewees, Pichette, originally from Montreal himself, spilled the beans on his financial vision for Google. "If you have a mission of changing the world, and you're not targeting a billion people, you're wasting your time," he said. "And if I've got an audience of a billion, I can monetize it."
Continuing, Pichette talked about how employees at the Googleplex in Mountain View ride expensive Italian bicycles from building to building. He also lauded Google's organic cafeterias. In Montreal, gastronomy and cycling are the second and third religions after hockey, so this remark brought cheers from the locals. As expected, he also championed Google's whimsical work environment, claiming the company's unique perks lead to more creative employees.
Pichette was hardly the most renowned character at the event, which also included Arianna Huffington, Michael Eisner, Ian Schrager, Jennifer Yuh Nelson, Autodesk kingpin Carl Bass and Cirque du Soleil honcho Daniel Lamarre. Bass, for example, called bullshit on everything Pichette said, claiming none of Google's perks really make the employees any more productive.
On another note, IBM used C2-MTL as a platform to announce the results of its 2012 Global CEO Survey, in which they found openness and connectivity to be the most important characteristics CEOs need as they move into the future.
Fast Company used the conference as a platform to announce the winners of its 100 Most Creative People in Business for 2012. In both those cases, IBM and Fast Company functioned as main sponsors not by simply plastering their logos all over everything, but by serving as a major component of the conference itself.
The dialog between the curators and the sponsors, and the actual organization of the event, was, on a higher level, the same dialog evolving onstage in the presentations and the panel sessions. The entire operation was a multilayered creative-self-diagnostic crossover of sorts. With tattooed Francophone babes and thumping house music thrown in.
All of the above pertains to Silicon Valley as well, because left-brain management types are realizing they need to pool resources with right-brain creative types if business is to survive in a volatile, constantly changing landscape. If anything, a more open-source form of collaboration across disciplinary boundaries is crucial. The muse is meeting the business plan. C2-MTL reinforced my understanding of Silicon Valley as a worldwide-networked mindset, not a specific geographical place.
An interesting side note: the first person to purchase a ticket for next year's C2-MTL was Belle Chou, who runs Shen Wei USA, based in Union City.