Features & Columns
C2SV Illuminated the Past, Present and Future of Silicon Valley
San Jose's core comes alive as C2SV once again melds tech, music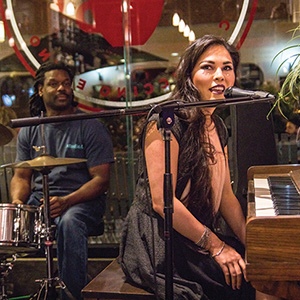 The third annual C2SV gala hoedown spectacular took place last weekend on South First Street in San Jose. Creative Convergence Silicon Valley, a.k.a. C2SV, brought together hi-tech hotshots, entrepreneurs, seasoned conference keynoters and longtime valley legends.
The variety of discussion illuminated the past, present and future of Silicon Valley, and after the tech conference-y powwow concluded each day, venues up and down the street unleashed music for attendees to experience.
Social media kingpin Robert Scoble kicked off the whole shebang with some insight into the sheer variety of new apps emerging solely just to monitor everyone's behavior 24/7. They supposedly provide us with just what we want. If you're at Levi's Stadium and want to know which bathrooms to avoid, well, this is now possible.
Jack McCauley then joined Scoble to talk about virtual reality. McCauley is a great example of the type of hero that graced the stage during this event. He helped start Oculus VR, which Facebook later bought for $2 billion. McCauley also developed the original scrolling function of the computer mouse and also wrote the original specs for what's now the USB port. He can also be blamed for much of the engineering behind the Guitar Hero video game series. Just listening to McCauley yak with Scoble on stage about the pros and cons of VR, along with Jaunt CEO Jens Christensen, was fantastic.
Many people at C2SV seemed proud to call themselves evangelists. Fast-talking "change evangelist" Brian Fanzo, who flew in from Virginia just for the event, took the stage at several different junctures, often preaching the virtues of live-streaming for the millennial generation. According to Fanzo, 40 million hours of video are piped through Periscope every day. The "consume now" generation is upon us, he declared, meaning: Why dick around with uploading a YouTube and contaminating the whole thing with SEO dogshit just so people can find it? Live streaming is the future, and thanks to Fanzo, an extra 3,000 people watched his presentation on Periscope. Yowza.
Since every single business on South First Street is capable of presenting music of some sort, a variety of sounds unfolded each night. In particular, one special performance went down at Caffe Frascati, when the legendary calypso singer Lord Superior played an intimate set for about 40 minutes, a once-in-a-lifetime opportunity for the crowd. Straight from Port of Spain, Trinidad and Tobago, Lord Superior, 75, is one of the last remaining musicians from the old-school calypso era of decades past. He performed a rousing set of traditional songs accompanied by a clarinetist.
Lord Superior's gig was a perfect example of what should be transpiring in any real urban place, as part of any festival or conference: a landmark performance that goes down in a tiny spot on the main strip. Plenty of other bands gigged that same night, although it was hard to tell if the daytime crowd who watched the conference presentations were indeed staying around for the music afterward, or just shuffling on home.
Even at just two days, many other highlights emerged. Sometimes just being in the presence of legendary characters who invented seemingly everything and then sitting in the crowd while those characters tell stories is just plain fascinating. Philippe Kahn was one of those characters. Yet another living legend of Silicon Valley history, Kahn has always been an eccentric operator, simultaneously on the fringe and at the locus of every wave of everything for 30-plus years in his own amusing French fashion. Kahn, of course, started Borland back in the 1980s, spent years in court fighting Lotus, pioneered wireless synchrony and was the first one to rig a phone to a digital camera, thereby instantly sending an image over a public network in 1997. He also has a music degree from the Conservatory in Zurich, Switzerland.
The history of Silicon Valley is filled with people like Kahn and Jack McCauley, those who developed, pioneered and/or patented all sorts of different things across multiple technologies, all of which anticipated all sorts of other things across multiple technologies. This is why the evolutions of Silicon Valley are fantastic to follow, especially for those of us who grew up alongside all of it. I feel creatively converged.