Features & Columns
Chang-rae Lee Visits SJSU
to Discuss New Novel
Novelist and Princeton creative writing professor Chang-rae Lee
carries on the tradition of author Hermann Hesse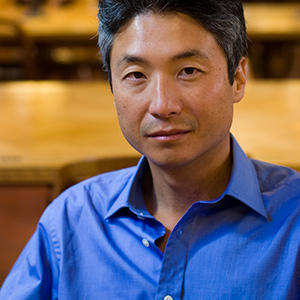 Novelist Chang-rae Lee writes about disenfranchisement. His characters and environments tend to unfold in Hermann Hesse-level proportions of alienation. Someone, somewhere, always seems to be inner-scrambling to reconnect with a mislaid page of his own composition.
For example, one can imagine Jungian shades of Harry Haller from Hesse's Steppenwolf and Emil Sinclair from his Demian and transplant them to Lee's protagonist in A Gesture Life. They may even be distant literary cousins.
In A Gesture Life, Franklin Hata is unable to "let love in." He's bereft of whatever possible emotions were even left after serving as a medic in WWII and watching Korean comfort women raped, abused and murdered by Japanese soldiers. In the book, he appears decades later as an aging physician, famous in his adopted New England town where everyone knows him. Yet he's emotionally numb and still grappling with those sinister memories, all the while dealing with a promiscuous teenage daughter who hates him. A painful story filled with longing, loss, emotional distance and all the similarly celebrated characteristics of Japanese masters like Yasunari Kawabata or Yukio Mishima, the novel's isolated, atmospheric style reflects Hata's condition. Hesse once said that some of his works were processes of self-individuation for him, in the Jungian sense, and I would go as far to suggest Lee employed similar techniques back when he wrote that one.
A Gesture Life was Lee's second novel. His debut effort, Native Speaker, launched him to mainstream literary conversation, if there still is such a thing. Native Speaker has been compared to both Ralph Ellison's Invisible Man and F. Scott Fitzgerald's The Great Gatsby.
"I don't think that is an accident," says Noelle Brada-Williams, who teaches Asian American literature at San Jose State University and will appear in conversation with Lee next week. "[Native Speaker] seems to focus on the search for a canonical identity, even in its form, in a parallel way to its protagonist's own search for identity. The main character, Henry, seems to be looking to define himself through the various men who have served as father figures to him in one way or another. It seems like Lee was very consciously looking at his own literary mentors as he wrote his first published work."
Lee's most recent novel, On Such a Full Sea, a work of dystopian speculative fiction, is a radical departure from the realist material he often employs. Imagine downtown San Jose in the future as a walled-off labor colony built by descendants of a ruined Chinese town 100 years earlier. The colony produces vegetables and fish for the luxury caste members, the elitist "Charters," who live across Santa Clara County in a gated community, a place one can easily imagine as a future version of Monte Sereno. Separating those two enclaves are "the counties"—lawless and deteriorated future versions of the suburban sprawl between downtown San Jose and Monte Sereno.
All jostling aside, On Such a Full Sea is not about San Jose, it's about Baltimore, but some readers will instantly imagine it here instead. Even though the book is a work of futuristic speculation, the rigid class boundaries described in its fictional worlds bear eerie resemblances to our own time, especially in San Jose and Silicon Valley, where the differences between the haves and have-nots become horrifically worse as every year goes by.
Lee, who teaches creative writing at Princeton, appears next week thanks to the Center for Literary Arts (CLA) at SJSU, which is part of the College of Humanities and the Arts. CLA stages similar author events every semester, but they're not just for students. Anyone can attend. Anyone can ask the author about his writing process, his Princeton life, or the alienation and emotional distance so beautifully depicted in his works.
"So many of my students and folks I know around San Jose want to be creative writers," says Brada-Williams. "And it is such a gift to be able to meet someone who is successful at it. I also hope that if there are people out there who have not read his work, that his visit will spur them on to read more."
Reading and Book Signing
Wednesday, Sept. 30, 7pm
MLK Library, room 225/229