Features & Columns
Cinequest Shines with Eclectic
Array of Movies, Artists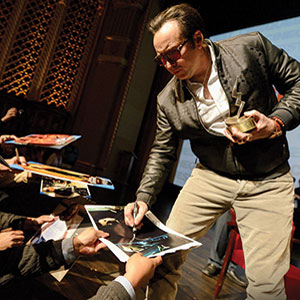 One of the best aspects of Cinequest is the emergence of local and interpersonal connections, the crazed ways in which you see yourself in a film, its dynamics or its geography. This year is no exception.
First off, Nicolas Cage stole the opening few days' worth of glory. Growing up with August Coppola as a father was quite an experience, he said. August made him read Siddhartha and Aldous Huxley, asking Nicolas to write the missing chapters. Cage also talked about watching Cal Worthington car commercials as a kid. ("Go see Cal!"). I thought I was the only one whose creativity inherited a wild combo of Hermann Hesse, Aldous Huxley and Cal Worthington, a triple-shot of epic proportions. This is why I love Cinequest.
From there, and for the first time since I can recall, a series of sports films occupied prime Cinequest slots from the beginning. I found myself rediscovering a lost sports identity without even trying.
Borg McEnroe documented the famous 1980 Wimbledon tennis final, a match I watched on TV as a kid. In the film, Shia Labeouf did a masterful job playing his equivalent in the tennis world, the explosive, temperamental John McEnroe, who battled the Swedish king of the tennis world, Bjorn Borg as the latter went for his fifth straight Wimbledon title. At the time, Borg was known for his serenity and emotional restraint on the court. He was the polar opposite of McEnroe, a scrappy combustible punk from New York. While I loved the film, as it brought back a period of my life during which I watched an inordinate amount of TV, the movie was slanted in favor of Borg's life, so we didn't get much of McEnroe's youth, comparatively speaking. But I remember that match.
With no advance knowledge except the basic details, I also watched Jack of All Trades, an exploration of the late-'80s baseball card collector scene. The film started out as a profile of Stu Stone, a former collector whose dad was a legend in the business. But as the film progressed, more was revealed. Beginning as an expose on why the card industry collapsed, the narrative evolved into Stone's reluctant search for his dad, who abandoned the entire family 20 years earlier. Aside from losing my dad when I was a teenager, I obsessively collected baseball cards even before then. So this hit home on two fronts.
As a kid, I also collected hockey cards years before San Jose had an NHL team. I barely knew the sport, but as a collector I became familiar with every team. I distinctly remember owning a Wayne Gretzky second-year card. Which is why Flin Flon: A Hockey Town was awesome to watch. Coming to us via San Jose's own Dustin Cohen, offspring of former Metro co-owner David Cohen, the film was a joy to behold. A tiny, desolate mining town in north Manitoba functioned as the main character, with its junior-level hockey team winning the hearts of the whole community.
At the Hammer Theater, I got to see High and Outside, a "baseball noir" about a washed up minor leaguer who gets released from his team and resorts to dealing drugs and not dealing with unresolved father issues. David Yow, singer for the bands Scratch Acid, Jesus Lizard and more recently, Flipper, plays the father's caretaker in the suburban wastelands of San Fernando Valley. Alex Hacke, guitarist for the pioneering German avant-noise band Einstürzende Neubauten, wrote some of the soundtrack. I first saw Yow at Marsugi's (now Tac-Oh) and then F/X (now The Ritz), right down the street and around the corner over 25 years ago. Hacke I saw with Neubauten many times in San Francisco, dating back to 1990. I never imagined I'd still be in my same neighborhood in 2018, seeing and hearing their talents on the screen.
In yet another film where the dad disappears and in which I didn't know this ahead of time, the documentary Purdah concerned itself with a Muslim woman cricket player in Mumbai. After the filming was completed, director Jeremy Guy needed to change the through-line of the story after hearing that the main subject's father had abandoned the family.
This is also why I love Cinequest. Patterns emerge from the chaos of existence, making everyone feel less isolated. I can't wait to see what unfolds next.