Features & Columns
Claudine Rankine Offers a
Journey of Racial Deconstruction
Claudia Rankine, the award-winning poet and author of the recent book, Citizen, recently appeared at San Jose State to a capacity crowd in the Martin Luther King, Jr. Library.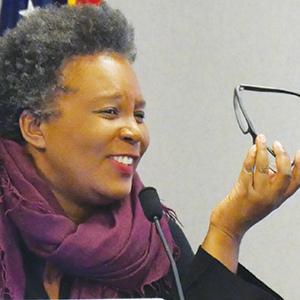 Claudia Rankine, the award-winning poet and author of the recent book, Citizen, recently appeared at San Jose State to a capacity crowd in the Martin Luther King, Jr. Library. The Center for Literary Arts at San Jose State already schedules a rip-roaring slew of author events throughout the academic year, with Pulitzer Prize winners and Nobel laureates occasionally making the rounds.
But this time, the room was especially jam-packed.
Originally published in 2014, Citizen recently went viral because it was the book Johari Osayi Idusuyi silently read during a Donald Trump rally, just a few seats behind him, visible to all those who watched. In the video, an older couple begins to accost her for not paying attention, but she clearly doesn't care and decides to do her own thing, dismissing the couple's aggression. Everyone thought it was a planned protest, but it wasn't. Idusuyi later said she entered the event with an open mind but that she lost interest once Trump's henchmen began bullying a black protester. Predictably, her act set off insidious explosions of hatred, but it was a masterpiece of performance art.
Citizen is a landmark work in the way it shatters all preconceived boundaries between poetry, prose, lyrical essay and serene invectives against all manifestations of racism in American society. You can just picture the publisher's marketing department squirming in their seats over which "genre" the book belongs in or how to even categorize it. Thankfully, Citizen defies vapid marketing nonsense. Much of the book is material one would normally refer to as prose poetry, but juxtaposed with essay-like ruminations, imagery, social commentary, and scripts for situation videos. The whole package feels like a documentary film, but in book format.
And when it comes to the content, much of Citizen's potency lies in the jarringly serene fashion in which Rankine presents numerous stories, reports and second-person texts illuminating how racism emerges from nowhere in casual interactions, intentional or not. It's a powerful experience, one that forces the reader to remagine what it means to be human, and invisible, or, even worse, just how often survivors of continuous race-based prejudice are conditioned to "let it go" or "move on."
For example, between second-person prose poems, we get powerful commentary on the hideous racism experienced by Serena Williams at the hands of bigoted umpires and journalists. In other sections, Rankine surveys the ripple effects of Don Imus' comments and the racist insults suffered by Algerian-French soccer legend Zinedine Zidane. All of this flies in readers' faces, but with an elegant poetic calm that makes the subject matter even more horrifying, oddly enough.
There's an almost cosmic sense of displacement, in the way survivors of lifelong racism feel forced to explain, or pretend, that each new incident is separate from the linear passage of time, of previous repeated incidents. The entirety of what is you and the space you invisibly occupy in the unfolding universe becomes a self-bruising process, all while everyone else in the world pretends none of this is even happening, or that they couldn't possibly be among those contributing to the problem.
What's more, the book's design plays a role in all of this. Most of it is bone-white and glossy. The black text practically symbolizes the objectified otherness of the non-white experience. The stories and people seem to scream for visibility among the whiteness of everything else surrounding them.
Rankine appeared at San Jose State a few weeks ago and read many passages from Citizen. Her voice was soothing. Serene. Clear. Images from the book were projected on the screen to her left. It was like a Powerpoint presentation reiterated as a documentary, reinvented as a poetic reading of essays, or a combination of these. Just like in the book, she presented a series of events, almost incantation-like and lyrical. And unlike many poetry readings, everyone in the crowd seemed attached to every single word. She "had the room," as poets and musicians like to say.
When it was over, I felt grateful, as did everyone else in the standing-room only room. We were no longer invisible.