Features & Columns
Exploring the Cultural Geography of San Jose's East Side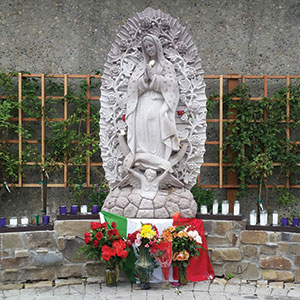 From the King Road side of Mexican Heritage Plaza, I look west down a side street and see the top of the Fairmont Hotel in the distance. I can also see the Marriott. This is how close East San Jose is to downtown. Geographically challenged people often think of the East Side as "out there" when it really isn't.
Even worse, those who live throughout the rest of San Jose, many of whom haven't ventured east of 10th Street, mistake East San Jo for some guerrilla warfare barrio riddled with undesirables.
"This is not the set of Colors, the movie," says Tamara Alvarado, executive director of the School of Arts and Culture at Mexican Heritage Plaza, as we walk south down King Road toward San Antonio Street. "If you go up into the hills, it's like, 'Wow.' That's what gets people. There's a lot of economic and ethnic diversity."
The East Side features affluent neighborhoods and not-so-affluent neighborhoods, with Mayfair being a gloriously incongruous hodgepodge of both. I'm here to explore, Alvarado being the best tour guide. All of Mayfair—the historical markers, the social activities, community meetings, and the School of Arts and Culture—forms a nexus of self-reflection for inhabitants of the area. Stories of Cesar Chavez emerge in the churches and side streets. The School of Arts and Culture continues to play a serious role in not only activating the thrice-failed Mexican Heritage Plaza, but in steering young kids away from street gangs and into the arts.
Within moments we're heading east on San Antonio toward the fog-drenched hills, somewhat green thanks to a recent spout of rain. On the street, we spot gang graffiti but also spend time raving over the efforts of Somos Mayfair, a community group fighting for social justice, arts education and the empowerment of youth.
Of course, any visit to this area requires a pit stop at El Perrin, a lively orange-colored Mexican restaurant. We pop in just as old '70s Los Bukis tunes emanate from the system and plenty of neighborhood people are packing the place.
Our bellies filled with nopales and fiery salsa, we then arrive at McDonnell Hall, in the parking lot behind Our Lady of Guadalupe Church, where Cesar Chavez first cut his chops in community organizing. A slick historical plaque, installed a few years ago, fills in the details.
Chavez used to live nearby, so we continue east down San Antonio past a few stagnant RVs and an old Mexican dude selling corn. Moving up Scharff Avenue toward Chavez's boyhood home, I can't help but appreciate the landscape. Faded tract houses dominate, but thankfully without identical manicured lawns. Each parcel seems different. Each has character. Various eras are represented, from old Victorians to new duplexes. A sense of historical continuity manifests itself—exactly what doesn't happen in many other parts of San Jose. Across the street, a red-and-white banner from Chivas, Guadalajara's legendary soccer club, hangs on a garage door. One front yard features a ramshackle Buddhist shrine bordering on avant-garde thrift store sculpture, while other lots are landscaped with gloriously downmarket assemblages from a variety of natural and man-made materials.
"It's not decoration," Alvarado notes. "It's not for people in other neighborhoods to come see. It's for us. We do this for ourselves. To show ourselves to ourselves."
And another thing. Cacti seem omnipresent.
"We grow it, we eat it, we celebrate it, we paint it," Alvarado says. "If I don't see cactus everywhere in this neighborhood, then I'll know it's all over."
The old house where Cesar Chavez once lived is designated with another historical marker. The neighbors are accustomed to weirdos rambling by to take pictures, so Alvarado and I are clear to lurk on the sidewalk. No one seems to mind. Only then do we circle back along Alum Rock to the Mexican Heritage Plaza. Alvarado says now that Mayfair has planted roots, the next step is to move beyond survival mode and into a position of hope.
"It's not necessarily because we want the west side of San Jose to come here," she says. "It's really more for internal community purposes. The more we know ourselves, the better we value ourselves, the better we value our assets, our cultural assets, our spiritual aspects, the beauty, the aesthetics of the things, and the social services agencies that are here."