Features & Columns
Daniel Arnold: Salt to Summit
Local travel writer Daniel Arnold made a trek that few would even imagine possible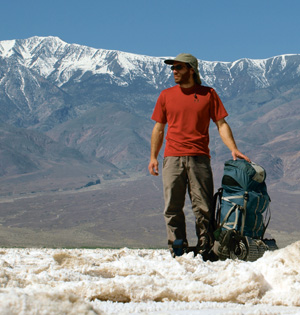 The onky SJSU graduate who would possibly travel from Redondo Beach to the top of Mt. Whitney without driving a car is one Mr. Daniel Arnold. And only a travel writer would attempt to conquer the Lowest-to-Highest Trail, from Badwater Basin at 282 feet below sea level to Mt. Whitney's peak, the highest point in the 48 contiguous states, without using the main trails.
Thankfully, Arnold's new book, Salt to Summit: A Vagabond Journey From Death Valley to Mount Whitney, documents his entire adventure.
After hopping on the bus at Torrance Boulevard and Pacific Coast Highway with a backpack that he calls "Goblin," Arnold crisscrossed Los Angeles on street buses—a ridiculous vagabond journey in itself—and then took a commuter train over the San Gabriel Mountains to Lancaster before eventually hitchhiking to Death Valley. From there, the journey began in earnest.
The Lowest-to-Highest Trail is a famous one, but Arnold refused to take the standard path. Manmade concrete or previously forged trails did not interest him. Anything designed to make travel easier was dismissed. Instead, he spent more than two weeks off the beaten path, literally between the cracks of the landscape.
Arnold's talent for descriptive prose highlights each and every page, although the book moves along at a leisurely pace, intended for readers to experience the timeless, ignored wasteland feel of the landscape Arnold occupies.
On Badwater Basin, Arnold says: "Getting pinched between the salt and the sun there feels like hanging out in a jerking oven. It's the apocalypse as written by a banana slug."
Other passages contemplate the apparent relationship between land and time—the way in which the desert destroys any sense of how time passes in the Western linear sense. Arnold compares it to minimalism: "There is something eerily patient about the big red curves of the mountains here, the heavy stillness. Mortality and frailty feel more inescapable in Death Valley than anywhere else I travel. Our time scales are comically disconnected. The desert, with its billion-year-old rocks, won't twitch during the time it takes me to finish my little dance. Here, I am the mayfly who lives for a day."
Even though Salt to Summit is an adventurous tale, Arnold does not focus on gear, gadgets and testosterone. This is not high-fivin' adventure writing for crotch-grabbing frat boys. Instead, Arnold spends much of the book absorbing historical legends of ramblers, nomads, prospectors and other misfits who traversed the same terrain before him, intertwining their histories with his present-tense narrative. What unfolds is just as much a history and philosophy book as a travel story.
We learn about colorful characters like author Mary Austin, who came to the Mohave by accident and wound up staying for 15 years. The famous Western writer Zane Grey also makes an appearance, through his novel Wanderer of the Wasteland, a book Arnold brought with him on the trip, and a novel in which Grey overdramatized the same territory.
"He force-fed his characters romantic lard by the tubful," Arnold writes of Grey. "But every so often, while chewing through the fat, I'm stung by a sharp line of thought—a cactus spine hiding in the greasy pate."
At another juncture, Arnold even throws in a little Manson family history for the reader's experiential pleasure. Even though the desert is a lonely place, history always loves company.
"I just want the readers to have a full-bodied adventure story to read," Arnold told me. "I think that's the goal with all my writing right now, is to give the reader an experience in a place that maybe they've never been to or maybe they've never heard of. For me, that full experience is both in the present—having the adventure—and also the stories, both old and new, of the land. What I'd like [readers] to do is experience this incredible place, and experience it at a bunch of different levels."
Arnold will talk about his work on Nov. 29 at 6pm in the Steinbeck Center at the King Library.
By Daniel Arnold
Counterpoint