Features & Columns
David Bacon's Photo Exhibit Shows Migrant Workers' Humanity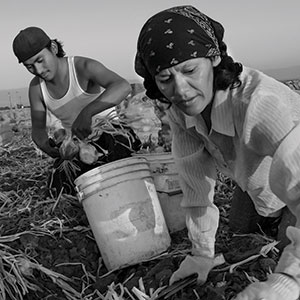 Thirty-five years ago, David Bacon was fired from his job at National Semiconductor on Kifer Road for trying to organize a union, after which he was blacklisted in Silicon Valley. As a result, he dedicated the rest of his life to pro-labor activism, documentary photography and the plight of migrant farmworkers. Skip to the current day and Bacon's remarkable black-and-white images comprise a new show at History San Jose at Kelley Park.
A bilingual and decidedly non-neutral exhibit, In the Fields of the North / En los campos del norte runs until next year, with Bacon arriving Jan. 14 for a lecture and book signing.
About half of the show emphasizes close-up shots, many with a wide angle lens to throw the viewer right into the scene. The textures of lettuce, bell peppers and jalapeños become visible like road maps. Scarf-covered faces battle the blazing sun. You can almost feel the heat, the dust, the sand or the mud. The viewer feels transplanted right inside a lemon tree, a potato crop or a bucket of broccoli seedlings.
In one image, Manuel Garcia, a farmworker from Esteli, Nicaragua, shows his hands and arms, covered in juice from trimming tobacco plants. His body absorbs the nicotine in the process, resulting in green tobacco sickness, a major occupational health hazard, but the rancher won't let him wear gloves because it harms the plants.
Several other images similarly reveal the hazardous conditions in which many workers are forced to toil away. We read about beatings, diseases, ethnic slurs, institutionalized embarrassment, poor sleep habits and workers routinely getting swindled out of their daily totals by the ranchers. Statistics explain the decline of wages and working conditions, as well as the scope of geographical dislocation. See Bacon's work and you'll never look at a piece of Romaine lettuce the same way again.
In a handful of specific text panels, detailed stories come to us directly from the workers themselves, providing even more context. For example, Romulo Muñoz Vazquez came from Oaxaca to an encampment near San Diego with his four children. He bought some nylon and a tarp for his roof and built a shack himself. Most people in his camp speak their indigenous language. "There is a little of everything," he writes. "Those from Guerrero speak one language; the people from San Pedro Muzuputla speak another. We speak Amuzceñas. We don't understand Mixtecos or Triquis—it's very different."
In another case, Lorena Hernandez gets up at 4 in the morning to pick blueberries all day in the blazing sun. When she gets home, her hands feel dirty, tired and mistreated. She has no energy to even speak to her daughter at night. She has no friends, only acquaintances from work.
As if that wasn't enough, the other half of the exhibit showcases the miserable squalor in which many of these workers live. We see shacks, rented rooms and filthy encampments—right alongside religious rituals or even traditional ethnic dances, proving that the workers are still making every possible attempt to retain their native culture and find happiness. In that sense, the show is not just a barrage of misery.
In a more encouraging story, Raymundo Guzman came to work in the fields as a kid, but after graduating high school he wants to be a rapper with a conscience thanks to the inspiration of Tupac Shakur. "He told the truth and had good advice," Guzman says. "He spoke about all of us kids in poverty. He talked about our lives. It's like Tupac used to say, we're a flower that grew in concrete. You can see the rose and stem is twisted, but it grew out of the hard concrete. We're from the hood but we're going to come up. Some people may not want us to achieve much, but we're human too."
In perhaps the most hopeful image, we see a shot of children sitting on a fence at Sakuma Farms. One holds a sign that says, justicia para todos (justice for all). Without a doubt, these kids will become the next generation of activists. We are left with a few shreds of optimism. We get a sense that at least some of the subjects in the photos are positioned to advance their lives.
Disclosure: David Bacon has been a longtime Metro contributor.
Photojournalist & Activist David Bacon
Talk & Book Signing
2-3:30pm, Jan. 14
History Park, San Jose
historysanjose.org