Features & Columns
East Side Art Project Celebrates Spirit of Mayfair Neighborhood
Mayfair residents created art to display as street signs on San Jose's East Side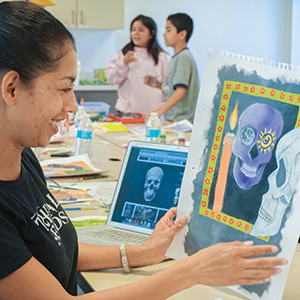 On a warm Thursday evening, kids from the Mayfair neighborhood of San Jose's East Side congregate at the Mexican Heritage Plaza pond. They're here to receive certificates from art instructors Roberto Romo and his wife, Elba Raquel Martinez. The students' original artwork is displayed on tables while street sign prototypes—made from their artwork—hang from a wire encircling the patio.
The kids are coming together out of local pride to make art and beautify the streets. Thanks to the School of Arts and Culture at Mexican Heritage Plaza and Somos Mayfair, a local community booster organization, the idea began when locals pounded the pavement to identify priorities in their neglected neighborhood. The need for public art, community beautification and the expression of identity became immediate concerns. All three of those key points are now coming to life through Voices of the Mayfair, a project in which the prototype signage might someday appear on the streets.
Featuring bright, colorful imagery with personal statements or sayings painted by the artists, the vertical signs function as tools of personal empowerment. Some feature sayings like "Girl Power" and "Yes we can," while others offer more introspective reflection or simple imagery with words like, "Evolution" or "Strive for Success." Collectively, the signs serve as vehicles to beautify the neighborhood and inspire local residents, as well as provide an element of surprise, satirizing the more negative language used in San Jose transportation signage.
"You always see those signs, 'no parking,' 'no dumping,' no this, no that," says Tamara Alvarado, director of the School of Arts and Culture. "Everything's a 'no.' So what we're doing, many of these signs have positive imagery, positive messages. Everything is asset-based, power-based, internal identification in a positive way."
Voices of the Mayfair is part of the larger Celebrate Mayfair Project, a yearlong series of events unfolding at the Mexican Heritage Plaza in order to connect Mayfair residents to each other through arts and cultural experiences. For example, each month, Cafecito, a regular pop-up gathering, takes place in the garden area of the plaza. Poets and musicians perform on the platform in the middle of the pond area. Coffee, pan dulce and chocolate are served. Tables devoted to community resources are scattered throughout the property.
The most recent Cafecito coincided with the opening reception for Voices of the Mayfair. Tea Lyfe from Vietnam Town brought horchata mixed with Vietnamese coffee, a drink you'd only see on the East Side, at least for now.
Taking the microphone, Romo and Martinez rallied the students, articulating the collective identity of the artists and how they can all come together and create a dialog through art and expressing themselves, and make the streets a better-looking environment. Much of the Mayfair neighborhood is covered in graffiti and doesn't necessarily foster a positive image. But if artists can join together, beautify the area and simultaneously tap into the pride in themselves and their neighborhood, then everyone wins.
Community liaison Rosa Angelica Castañeda says such a process is the most empowering aspect of the project. When people in Mayfair come together, learn about each other and share with each other, a normally disregarded San Jose neighborhood comes to life.
"It's a way to really come out and shine and show people who we are," Castañeda says. "We're not a negative space. We're full of life and potential."
The plan is to install the art-signs throughout the Mayfair neighborhood, on utility poles, walls, parking lots and in other public places one would normally see standard signage.
However, when it comes to getting final permission, the process might not be a quick so easy, as multiple layers of grim, foreboding bureaucracy exist at City Hall. That won't stop Alvarado, who says she brings years of experience in navigating the obstacles.
"City departments tend to start with a 'no,' so our role as an arts organization is to try and work the city to a 'yes,'" she says. "They'll have demands like anti-graffiti-proofing, weather-proofing, who's going to maintain them. But all that stuff can be dealt with. Our job as artists is to give an opportunity for our community to express themselves—positively."