Features & Columns
GIY: Grow it Yourself Movement
The valley's cannabis collectives are at the forefront of the GIY—
grow it yourself—movement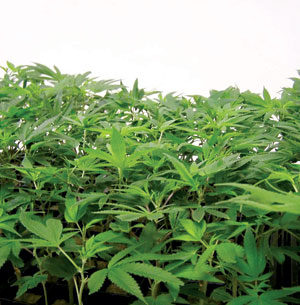 The term 'home-grown' used to have a negative connotation in cannabis circles. It meant the pot lacked potency, sophistication and depth. No longer is that the case, as nursery and garden center crowds grow larger each day.
Spring planting season has begun, and this year the fertile Santa Clara Valley soil will host traditional garden tomatoes, peppers and squashes, as well as an increasing number of marijuana plants.
The 1996 Compassionate Use Act in California made it legal for medicinal cannabis patients to grow their own medicine. However, only fairly recently has there been broad access to seeds and seedlings amongst amateur cultivators.
These days, many cannabis collectives distribute both seeds and 'clones'—cuttings from a 'mother' cannabis plant that is hormonally persuaded to grow roots—and some teach classes on the care and feeding of medical marijuana plants.
Josh X, who teaches a free, weekly how-to forum on growing marijuana at Elemental Wellness, discovered his passion for growing cannabis from his family. "I'm Italian and we always had a garden. My mom and dad grew everything—peppers, tomatoes and that one 'special' plant that we knew wasn't for eating. When my father passed away from cancer, growing [cannabis] was one of things that helped me keep a connection with him." Josh honed his craft to the point where he now teaches others to appreciate the horticultural aspects of the versatile plant.
He has seen interest increase from all kinds of people since he started his 'Crop Circles' workshop. "We get an average 20-plus people for our Sunday clinics; from a few weekly veteran-regulars to complete newbies," Josh says. "We have a curriculum that tracks the growing season, so right now it is time for people to select their method for growing and select the strains. So those are the topics we have covered recently. Later in the year, we discuss harvesting, curing and storage."
While many of the area hydroponics stores also host teaching demos from manufacturers that supply lighting, growing mix and nutrients commonly used for cannabis cultivation, these stores often play coy when it comes to using the words 'marijuana,' 'cannabis' or 'weed.'
It might seem counterintuitive for collectives to sell clones and teach members how to grow, because it could create less demand for the collective's services. But in actuality, a collective with a thriving subset of growing members allows for a broad and steadily available product mix, says Jade Kine, founder of Cannacademy, a cannabis trade school that operates out of MedMar in San Jose.
"It benefits the members because they get more choices," he says. "Many members are either current or future growers for the collective, so it makes sense that they get training on what collectives expect in terms of medicinal-quality, no pesticides, etc."
Eddie X, a bud tender at Elixir, describes the net-economic effect to the collectives this way: "Maybe it does mean that some people don't visit as often, because they grow their own. That's OK. We're a not-for-profit. It isn't supposed to be about the money.'