Features & Columns
'Grados Inefables' at MACLA
MACLA presents 'Grados Inefables,' a major new work by composer Desmar Guevara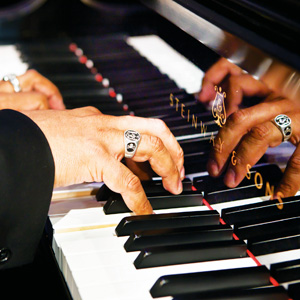 Puerto Rican composer Desmar Guevara will not give away any ritualistic processes instilled in him by the St. Cecile Lodge #568 of Free and Accepted Masons. Instead, listeners at the MACLA performances (with pianist Nelson Ojeda) will have to study the score or listen to the music for clues.
Masonic codes are indeed embedded in Grados Inefables (Ineffable Degrees), Guevara's new 50-minute chamber work for piano and string quartet. The title references specific degrees of the Masonic path.
"I called it Grados Inefables because this is like the beginning of a journey," Guevara explains. "It's about my experience as a Freemason at my lodge. I wrote it and tried to put to music what I had lived as a Mason and as a Mason musician. It's a very personal story. It's about growth; it's about growing spiritually."
Guavara began playing piano and violin as a kid, but he has never written a large work for both piano and strings. In order to prepare for the process, he even reconnected with his old piano teacher in Puerto Rico, Alfonso Fuentes, who provided inspiration.
Thematically, the motifs in the piece are based on 12-tone rows, a scheme originally implemented by Austrian composer Arnold Schoenberg. In this technique, each of the 12 notes in the chromatic scale hold equal importance; all are given the same emphasis, so there is no conventional tonality or key signature. The composer devises a row of 12 notes, without repeating any one note, and subsequently devises transformations of the row. It was a controversial approach, one that both inspired and infuriated entire generations of 20th-century musicians.
Guevara claims the technique allows him to be more creative. He can fold in versions of the seed row—and experience the compositional process as one of ritual. In the same way that certain 12-tone rows mirror other rows, the process unfolds, mirroring the ritual growth of the Mason himself. Thus the piece doesn't evolve in the conventional tonal sense.
Guevara's life is still unfolding, a process reflected in the work. All in all, the 12-tone system, according to Guevara, permits him to focus on every individual shade and, um, degree, of the composition.
"With the 12-tone row, everything counts," Guevara says. "You have the freedom to explore and create colors. You work a lot more with the color than with the tonality."
He also says that the number 3, highly important in Masonic symbolism and allegory, is embedded throughout the work. Again, certain ritualistic techniques from Freemasonry were employed in the process. For instance, particular voicings may not be structured according to musical ideas but for Masonic reasons instead.
"One of my influences is The Magic Flute from Mozart," Guevara confesses. "He actually wrote a lot of the secrets into that opera. Sometimes I think his life ended the way it did because he decided to do that. But he did it in such a wonderful way."
For Guevara, Grados Inefables has been a ritual and a learning process; and it's not over yet. He says he will continue the process as his very life unfolds. "Some people have thought this piece was about my childhood, because I say it's about growing, growing up—it's about life," Guevara tells me. "But Masons understand what I'm trying to say, although you don't have to be a Mason to grow in life."
Guevara belongs to the Lodge of the Arts, a daytime lodge in Manhattan catering to artists, poets and musicians. The lodge goes back to Civil War times and is steeped in the history of how Masonic teachings can be of use to creative types. Former members include Al Jolson, Harry Houdini and Louis Armstrong—a pretty damn good pedigree.
"Being a Mason has inspired me," Guevara admits. "It has inspired me to write more and be challenged. Not to be afraid of things and of composition. This was a challenge for me, because I'm mostly writing for theater, for jazz and commercials, but now I'm embarking on something I'm trained for. I'm finally going back to classical."
Grados Inefables
Fri.-Sat. 8pm, Sunday 2pm
$15-$25