Features & Columns
Kepler's Books 60th Anniversary
Kepler's Books, the store that shaped the world, celebrates its 60th year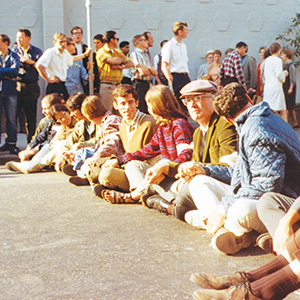 I sat right next to Joan Baez when Kepler's Books and Magazines in Menlo Park turned 50. It was a helluva show. That was 10 years ago, and now the legendary independent bookstore will celebrate its 60th year on Saturday with a free block party. Baez, of course, was a fixture at the store during its heyday in the 1960s, just after Roy Kepler, along with Cody's in Berkeley and City Lights in San Francisco, helped usher in a brand new concept: paperback books.
Roy Kepler first opened his bookstore in 1955. A World War II conscientious objector, Kepler spearheaded the American peace movement for decades and also helped launch the nation's first public radio station. He spent his entire adult life promoting peace, challenging warmongers, opposing nuclear proliferation and even going to jail for it all. As a result, his bookstore became a central vortex for '60s counter-culturists. Jerry Garcia, Phil Lesh and Pigpen of the Grateful Dead first met each other while loitering around Kepler's and making a racket. When Ken Kesey needed someone to drive the Merry Prankster bus, he dispatched Neal Cassady straight from Kepler's to plan the cross-country spectacle. Hitchhikers would often stop by Kepler's on their way up and down the coast. It was a focal point for bohemians who weren't welcome anywhere else. Baez and her guru Ira Sandperl became regulars, with Sandperl appearing behind the register for decades. As the legend goes, Kepler's was the first place to stock both Playboy and the Paris Review, right next to each other. Whole Earth Catalog founder Stewart Brand, as well as Steve Wozniak, have both cited Kepler's as a place they frequented in their youth.
In John Markoff's book, What the Dormouse Said: How the Sixties Counterculture Shaped the Personal Computer Industry, he writes of Kepler's Books as the a central meeting vortex for the birth of the PC revolution: "If you put a stake in the ground at Kepler's ... and drew a five-mile circle around it, you would have captured Engelbart's Augment research group at SRI, McCarthy's Stanford Artificial Intelligence Laboratory, and Xerox Palo Alto Research Center, as well as the hobbyists who made up the People's Computer Company and the Homebrew Computer Club." That group of institutions is basically what started all things computer, in the modern era, as we now know it.
Controversy arrived at Kepler's in all shapes and forms. During the Vietnam era, when a second store opened in Los Altos, right-wingers tossed a bomb through the window, in protest of the store's constant supply of anti-war material. By the time 1989 came around, after Roy's son Clark had taken up the reins, Iran's Ayatollah Khomeini issued a fatwa on author Salman Rushdie, prompting bookstores everywhere to remove The Satanic Verses from their shelves. Kepler's did no such thing. Instead, the store organized a public reading from the book by Ira Sandperl.
At the Kepler's 50th anniversary hoedown, a star-studded lineup of folks attended the party, in addition to Baez. Jamis MacNiven, owner of Buck's in Woodside, showed up and doled out copies of his own book of memories, Breakfast at Buck's. Another publication floated around the party, a small historical pamphlet by journalist Michael Doyle, titled, Kepler's: 50 Years of Independent Bookselling. Much of that original pamphlet wound up in Doyle's 2012 tome, Radical Chapters: Pacifist Bookseller Roy Kepler and the Paperback Revolution. It's an amazing piece of work. I'm sure copies will fly off the shelf during the 60th anniversary party.
After near-permanent closures and financial wreckage three years ago, the current incarnation of Kepler's, owned by Praveen Madan, operates in a unique split model of nonprofit and for-profit. The retail bookstore business is the for-profit half, while a seemingly nonstop schedule of author events and community outreach endeavors constitutes the nonprofit arm of the enterprise.
For the 60th anniversary spectacular, expect a free block party with activities for all ages, plus limited edition Kepler's swag. Historical imagery will be on display, including some newly discovered correspondence between Roy Kepler and Albert Einstein.
Kepler's Books 60th Anniversary
1010 El Camino Real, Menlo Park
Free
Saturday 2:30-5pm