Features & Columns
Little Italy Creates a New Identity
with Unveiling of Gateway Arch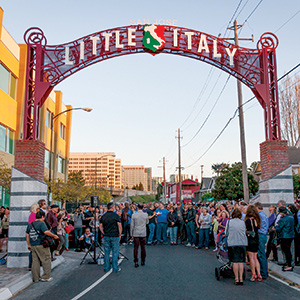 Last week, San Jose's Little Italy project officially dedicated a monumental 31-foot gateway arch at the intersection of N. Almaden and Julian, right in front of Paesano Ristorante Italiano, at the other end of the block from Henry's Hi-Life.
Constructed of marble, steel and other elements, the arch took years to complete. After arduous degrees of city meetings, permits and fundraising endeavors, the arch now signifies the entryway to Little Italy—at the moment, a small few blocks of stuff, but a place where ideas loom quite large. I remember the initial gala fundraising dinner in 2009, held at the then-abandoned San Jose Earthquakes offices, and what's now the Lusardi Building at San Pedro Square Market. It's been a long journey since then, and plans for Little Italy now include a full-blown Italian Cultural Museum and a new Enoteca La Storia across from Henry's.
For the gateway arch dedication party, organizers blocked off the entire street. As early as 5:30pm, a motorcade of Italian cars began to arrive. Fiats, Alfa Romeos, Masereatis, Ferraris—classic and current—all pulled up and parked for the crowds to witness. Signmaker Tom Colla brought a deep blue 1950s-era Fiat that once traversed the African continent way back when the Trans-African highway was first realized in the modern era. A decades-old sticker from Kenya is still attached to the windshield. I felt transported into a Graham Greene novel, although I'm not sure which one.
And speaking of transportation, as the crowds began to show up, the experience was multisensory. A powerful aroma of BBQ emanated from Henry's Hi-Life and blanketed the entire block, as is often the case. Mandolin player Al Fabrizio sat in the front yard of Bel Bacio, jamming out soft Italian numbers, including "Mattinata," "Sway," and several others associated with Godfather flicks. Tony & Alba's supplied pizza. Guglielmo Winery supplied bountiful portions of Champagne. Families gathered in the streets, children scampered everywhere and many folks simply set up shop on the colorful steps of the restored houses just to observe the ceremonies.
With the Italian cars, the food, drink and the mandolin, I felt transported straight into a 1970s European spy flick with Omar Sharif and Jacqueline Bisset, imagining them in a Fiat, chased by an Interpol agent, crossing over a river on a European bridge, under dismal overcast skies while Maurice Jarre soundtracks blared in the background. Debbie Caminiti, owner of Bel Bacio, immediately asked if she could be Jacqueline Bisset. I said yes.
Caminiti is also the co-founder of the entire Little Italy idea and nonprofit operation, along with Joshua DeVincenzi Melander. Together they orchestrated a vast network of connections, mind-blowing in scale. They tracked down countless businesses, all of which are either owned or operated by Italian-Americans. Everyone pooled their respective resources and brought their respective skill sets to the table to make the gateway arch happen. Many others donated money or purchased plaza bricks to be named after them. After all was said and done, $186,000 was raised to bring the whole idea to fruition. No grants or city money was used.
As the food and drinks flowed, Caminiti and DeVincenzi Melander headed up the brick dedication ceremony, to thank all those who donated funds to help the process along its way. Italian-American politicians Sam Liccardo, Dave Cortese and Pierluigi Oliveiro took part in the dedication ceremony before heading off to a vigil for fallen police officer Michael Johnson.
As the sun began to set on the horizon behind Paesano Restaurant, the main gateway arch dedication started, with Melander thanking everyone who contributed to building the giant 31-foot structure of marble and steel. Each company who helped build the arch received a plaque. Melander said the goal was to create an urban place where all of the different Italian-American associations could gather more than just once a year at the Italian festival. Caminiti then talked about the symbolism of the arch itself: "Marble represents the old country, where we came from. The bricks represent everything that we're now trying to build, brick by brick."
With that, I say: forza azzurri!