Features & Columns
San Jose's Little Italy Gets a Boost
The slow resurrection of San Jose's Little Italy gets a boost with approval for gateway arch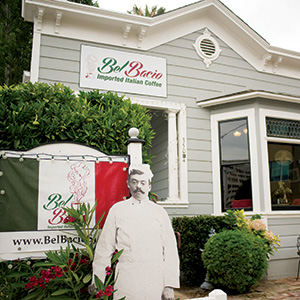 The efforts to establish a bona fide Little Italy neighborhood in San Jose have leaped a major hurdle. All one-zillion of the required permits to construct a gateway arch on Julian Street in front of Paesano Ristorante are now signed off.
This is not as simple as it sounds because the intersection in question—North Almaden Avenue and Julian Street, just north of Henry's Hi-Life—is a major public right of way. Unlike Italy, you can't just build a steel arch and put it over the street. There exist a gamut of studies, permits, committee meetings and other technicalities slapped onto the process by City Hall.
But as Little Italy honcho Joshua DeVincenzi Melander tells me, the exhaustive permitting process is now complete, and a 31-foot wrought-iron and steel arch will mark the entrance to North Almaden from Julian, between Paesano and the Y.A. Tittle Insurance Building. Two 27-foot steel beams will rise from marble bases and masonry bricks attached to Italian paver stone islands on both sides of North Almaden. So, whoever drives south on 87 and takes the Julian Street exit will immediately see the gateway arch designating the official entrance to Little Italy San Jose.
Little Italy is a project years, possibly even a century, in the making. Henry's Hi-Life used to be Hotel Torino, an Italian accommodation that first opened in 1900. And that stretch of St. John is where the very first Italian immigrants in this area first settled. But over the decades, half a dozen homes in the area had long since fallen into disrepair. Enter Melander and countless others who donated time and money, plus lent their respective reconstruction, fundraising and/or networking talents. As a result, several homes in the area are now restored and purchased. In the middle of the block, between the park and North Almaden, behind the homes and businesses, one finds an authentic Italian piazza, perfect for loud festive affairs or outdoor soccer-viewing parties.
Melander recently guided me around the area, beginning at Bel Bacio, a locally operated coffee shop. Owner Debbie Caminiti says the customers feel so much at home they even drop their dishes into the sink. On the wall, I spotted historical photos of the Torino Hotel down the street.
As Melander and I sauntered around the block, I easily saw the Little Italy vision starting to come together. It will not be a huge neighborhood, but it might prove a perfect example of what can be accomplished if tons of people all find a common cause—Italian heritage in this case—and pool their resources to raise lots of money.
The rundown, dilapidated house at 323 West St. John, for example, will eventually transform into an Italian heritage and cultural center showcasing the history of the Italian diaspora in San Jose. Melander says the basement will be converted into a bar named The Italian Cellar, a speakeasy-style establishment. I'm tempted to lug my Dean Martin and Mario Lanza LPs over there and start spinning.
"We used to have Manny's Cellar, now we can have the Italian Cellar," Melander explained, referencing the legendary now-defunct institution that once graced the basement of the Fallon House. Manny's was the place where many of the judges, lawyers and politicians used to drink decades ago. Before Manny's, it was the Italian Hotel, just like the Torino Hotel, a boarding house where immigrants could find cheap meals and furnished rooms.
As Melander and I continued into the backyard of 323 W. St. John, he explained that more Italian paver stone will eventually grace the driveway. The backyard itself will be transformed into a children's area, a Pinocchio's Village of sorts, replete with clay models of Tuscan homes and other items of similar heritage. As we poked around, the house was unfortunately boarded up from the inside, as homeless people were still occupying the place.
Over in the park, banners of local Italian notables still hang from the lightposts. The Italian festivals will still unfold and the Italian school for kids will still continue. What's more, the folks behind Enoteca La Storia in Los Gatos have their sights on the building across St. John from Henry's Hi-Life. A new wine bar and soccer lounge, says Melander, are part of those plans. Forza Azzurri!