Features & Columns
Little Italy Street Fest Brings Out Charming Side of San Jose
All ages celebrated side by side at the Second Annual
Little Italy San Jose Street Festival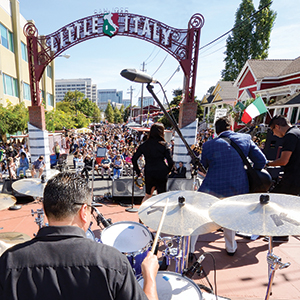 Krazy George surrounds me on the walls, as does a jersey of San Jose Earthquakes legend Chris Wondolowski. Photos of former Quakes heroes like George Best, Chris Dangerfield and Landon Donovan also grace the interior of Enoteca La Storia in downtown San Jose, so much that I can almost hear George's trademark gravelly voice and decades-old snare drum.
That blasted thing has infiltrated my eardrums since 1977.
Just a few weeks ago, La Storia opened its second location, directly across the street from Henry's Hi-Life. One section of the establishment also goes by Cafe Calcio. It's a soccer-themed bar, the only one of its kind ever in San Jose.
Outside, thousands of people are crammed elbow-to-elbow along North Almaden and St. John, milling in both directions as the Second Annual Little Italy San Jose Street Festival unfolds. Probably a dozen food booths attract lines extending every which direction. Wine is flowing as the blaring sun beats down on the pavement.
But I'm inside La Storia, tearing through a pizza, gawking at all the rocking photos. Most of them are either Italian or San Jose. One photo depicts the San Jose Earthquakes 2003 championship team, celebrating their MLS Cup win that year LA—a game I attended and covered for Metro. Similarly, other photos depict Italian World Cup championship teams from 1938, 1982 and 2006. Another photo of Landon, while playing for the US Nats, sits on another wall, right underneath a photo of Krazy George from the early '70s. Former Quakes keeper Joe Cannon also gets his due.
I seem to be turning Italian just sitting here. My pizza includes what seems like an entire head of garlic—a good thing. Between the garlic and sausage, I'm a bit concerned about monster breath, but it doesn't stop me from practically crawling over people at their tables, just to get a closer look at the photos.
But beyond that I find the framed jerseys of some of the all-time legends of Italian soccer gracing the opposite wall: Andrea Pirlo, Paolo Maldini and Francesco Totti. Maldini spent 25 years playing for A.C. Milan and no other team. Likewise, Totti devoted his entire 25-year career to A.S. Roma.
Krazy George, on the other hand, has spent 43 years instigating crowds at every possible incarnation of every San Jose soccer team since 1974. These are hallowed freaking walls here at Enoteca La Storia. Yeah, I should probably get jazzed by the marble elements, the wood flooring, exposed ceilings and all that stuff. But a full-blown soccer bar, half Italian and half San Jose, is decades overdue.
As the street festival rages outside, people continue to filter in and out of the bar. "Senza Luce," the Italian version of Procol Harum's "A Whiter Shade of Pale," emanates from the stereo. Opera superstar Pasquale Esposito, a graduate of San Jose State University's School of Music, then saunters in like royalty, wearing a sash colored like the Italian flag, designating him as the "Grand Marshall" of the festival. Multiple patrons rise from their tables and rush to take selfies with him.
Later around 4pm, Esposito plays the main outdoor stage, facing directly at the Little Italy gateway arch and into the throngs of people. A rock band backs him up. With a commanding set of pipes, he belts a version of "O Sole Mio" to the rafters, except there are no rafters. And he's a total charmer. In the crowd, women from ages 8 to 80 are swooning, while men are trying to figure out how they'd even compete with this dude.
Just as Esposito hits the stage, many of the vendors have already run out of food. The crowds are more than anyone expected. As I sway through the ocean of people with garlic on my breath, I see everything from blue Italian soccer jerseys to Godfather shirts. Old men in khaki chinos and sun hats straight from the retirement home are dancing next to teenagers. Seemingly everyone has a glass of wine, a cup of gelato or a meatball sandwich in hand. When Esposito breaks into a version of Leonard Cohen's "Hallelujah," the crowd sings along with the chorus. At that point, the evening becomes perfect. Every tune will remain in my head for days to come. All is well. Forza Azzurri!