Features & Columns
Lou's Village Closing... Again
Longtime local restaurant that once brought music and sports legends
to San Jose closes for a second time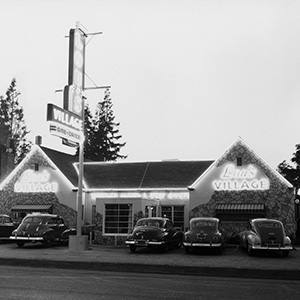 For 60 years, Lou's Village occupied a parcel of land at 1465 W. San Carlos Street, just past Meridian, as one ventures outbound from downtown San Jose. When Lou's opened in 1946, that part of town was essentially the western outskirts of San Jose. After decades of banquets, weddings, big band gigs, comedy, doo-wop, celebrities, scallops and tons of 49ers, Earthquakes and Sharks parties, the place closed in 2006.
After a new incarnation opened in 2012 at the revamped intersection of Willow and Lincoln—the heart of Willow Glen—everyone gushed with high historical hopes. Lou's would have opened much earlier, but since San Jose is the most incompetent city on Earth in which to get a restaurant open in any reasonable amount of time, it took them longer than expected. And when Lou's did open, it emerged slightly behind the curve when it came to capitalizing on trends like smaller footprints, simpler menus, communal dining environments, escalating seafood costs and a new generation of food-literate 20-somethings who want different types of menus and experiences. At least that's how I see it.
Unfortunately, by now, most know that Lou's Village closed last weekend. The absurdity involved here takes much more than I have room to elaborate, but it looks like Opa!, the Greek place from down the street will take over the space. Make all the jokes you want about the Greeks invading the Italians and the Germans. In any event, I hope they keep the gorgeous Lou's Village aquarium above the bar. Ditching that masterpiece would be a travesty of justice.
I slithered in last week and slumped over the bar to eat was possibly the best veggie ciabatta sandwich I've ever had. The bread was impossibly fresh and it seemed like an entire eggplant was crammed into the thing. Owner Tim Muller, always the one to chat about anything with anyone, wandered over and we immediately began reminiscing about the San Jose Earthquakes after-parties in the 1970s, even though I was only about 3 feet tall at the time.
In another case, the Mullers say, when Bill Walsh first took over the 49ers in 1979, before they'd won any Super Bowls, a team party or two unfolded at Lou's Village. No other place in San Jose did that.
What's more, both Tim and his brother Tom are lifelong musicians, and we can't talk about W. San Carlos Street without mentioning Stevens Music. I first took lessons there and Tim first took lessons there about 30 years earlier. Our ghosts will inhabit 1202 Lincoln Ave. long after we're gone, if they don't inhabit the building already.
Which brings to mind the musical history of Lou's Village. Countless acts performed at the original location, going back to the '50s. The Ink Spots, Lenny Bruce and Scatman Crothers all made legendary appearances. Tim's brother, Tom, says the only reason the catering business and the banquet room emerged, more than half a century ago, was to pay the performers, since there was never a cover charge. In the 1950s, when San Jose's population was just starting to surpass 100,000, there simply didn't exist any major catering businesses or banquet facilities, outside of Hawaiian Gardens. At the time, there were even barbecue grounds next-door to Lou's Village, which, again, were built solely to finance the musicians.
"They had barbecues on the weekends so they could make money for the show biz acts," Tom explained. "People, and then the entertainers, would come out and mingle with the folks at parties after the shows. It was a good time, it was just a whole different world. And a lot of people got their start at Lou's Village. Marty Allen, when he was just starting out, used to put his whole act together at Lou's Village."
In fact, Tom first turned into a musician at Lou's Village, he tells me. It was destiny.
"My first memory of the place was as a little kid, going on the stage and playing all the instruments," he recalled. "I basically credit that for making me into the musician I eventually became and all that stuff. And it was kind of funny because none of my family approved of it."
Long live Lou's!