Features & Columns
Soccer Legend Mani Hernandez
Gets Unexpected Hall of Fame Call
Established 20 years ago, the Hall honors those who have made extraordinary contributions in the sports world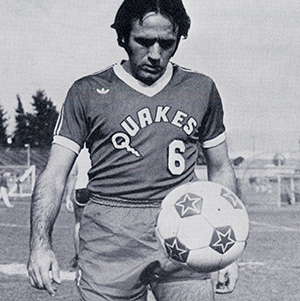 Original San Jose Earthquakes forward and Presentation High School soccer coach Manuel "Mani" Hernandez will join those inducted next week into the San Jose Sports Hall of Fame. Established 20 years ago, the Hall honors those who have made extraordinary contributions in the sports world.
The inductees have either developed their skills in Santa Clara County, played or coached for a county team or school, represented the county as an individual athlete, or contributed in some extraordinary fashion to the greater community in a sports-related context. The annual dinner and ceremony will unfold in the Shark Tank on Monday night.
In Mani's case, he came to the Bay Area from Madrid as a teenager in the 1960s. He initially played soccer for the legendary coach Julius "Julie" Menendez at San Jose State College, as it was then called. After playing for the U.S. Olympic team in 1972, Hernandez joined the first incarnation of the San Jose Earthquakes for the club's inaugural season in 1974, during which he scored the first goal in the history of the entire club. Later, he taught high school Spanish and coached the Presentation High School girls' soccer teams for a staggering 31 years, winning 17 league championships and eight Central Coast Section titles. Twelve of his players went on to play collegiate soccer, including U.S. women's national team members Danielle Slaton and Aly Wagner. But none of it, he says, led him to expect anything like a hall of fame induction.
"I don't think any coach really aspires to that," Mani says. "We coach, kids graduate, they go, and you keep on going. You pay attention to the wins and losses to make you feel some kind of reward, then the kids go to college, so you feel some sort of reward too, but nothing like a hall of fame occurred in my mind. I was very surprised. It's quite an honor." Mani attended James Logan High School in Union City for a few years before enrolling at San Jose State. After coming from Spain, where soccer verges on religion, he almost harbored second thoughts about emigrating. The mass U.S. population did not seem to know the sport very well.
At San Jose State, however, Spartan coach Menendez was a local ambassador of the game—an expert, a teacher, a mentor and an overall father figure for many. So when he spotted Mani playing high school soccer, Menendez recruited him immediately. In addition to coaching the Spartans, and eventually the U.S. Olympic team, Menendez was also the main person to spread the gospel of the game. He taught it to prospective high school coaches across Northern California, since it wasn't yet in the curriculum. When Mani started at San Jose State, Menendez often took Mani along to presentations in order to demonstrate basic skills. Mani was already learning to improve his game on the field, but now he was also reaping the rewards from watching Menendez pass the game on to others—a model Mani took with him when he started his own teaching career.
"He gave me a very good learning model," Mani said. "At the time I didn't realize it. I was just helping his demonstrations. But after a period of time, I began to think, 'Wow, this is how you teach.' So it was a great position for a young kid to be involved."
When the original incarnation of the San Jose Earthquakes started in 1974, they became the city's first-ever professional sports team, initially selling out Spartan Stadium over and over again. Menendez was instrumental in helping the new club get started. Mani joined the club and went on to score the first goal in the team's history.
Now, at the ripe young age of 67, Mani still plays soccer on a recreational basis and will join several other legends in the San Jose Sports Hall of Fame. Next week will also see the induction of track and field hero John Carlos, one of those enshrined on the statue at SJSU for his Black Power salute at the 1968 Olympics. Other inductees are former Niners quarterback Jeff Garcia and synchronized swimming coach Chris Carver.