Features & Columns
The San Jose Mini Maker Faire
Super-interactive Mini Maker Faire calls on pranksters, scientists and oddballs of all sorts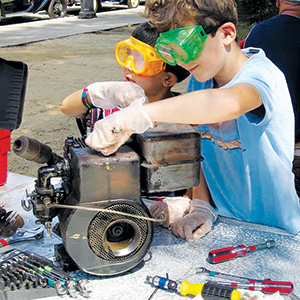 The giant swath of land at History Park is not limited to exploring the past. This Sunday, hundreds of creative geniuses will explore the future at the First Annual San Jose Mini Maker Faire. The flagship Maker Faires in the Bay Area and New York have launched an explosion of maker culture in general, with several independently-produced Mini Maker Faires surfacing all over the world. Now San Jose has its own.
For the uninitiated, Maker Faire is one gigantic creative powwow—a county fair, a science fair, a robotics demonstration, a hands-on arts & crafts workshop and a hacker convivium, with all of the above fusing into a tangible manifestation of the global creative spirit. Anyone who harbors a passion for invention or reappropriation shows up and demonstrates what they made, how they made it and what they learned. Bees, yarn and solder sit side by side. You can be a botanist or a bicycle inventor or, in some cases, both at the same time. Tinkerers, educators, hobbyists, pranksters, artists, industrial designers, urban farmers, welders—anyone bent on innovation and experimentation across the spectrum of science, engineering, art, performance and craft will be found somewhere at a Maker Faire. Full, unthrottled curiosity reigns supreme.
History Park may not seem like an obvious choice for a venue, but upon further contemplation, it makes all the sense in the world. A smattering of kids' activities already unfold at the property, most of which are participatory in nature. "All our educational programs are highly interactive," says Alidea Bray, executive director of History San Jose. "The kids all make stuff in the programs. They make adobe bricks, they make candy, they make dolls, load wagons and play games. It's not like touring kids around or sitting in a classroom. The programs are all about learning history through making stuff."
What's more, several of the groups and events that regularly utilize the park can be understood as facets of maker culture in general, whether it be lowrider shows, bicycle gatherings, the poetry society or the printers' guild. Vietnamese people sculpt in the garden at the Viet Museum and kids test DNA in the science workshops. For the faire, the trolley barn and the restoration shop—places where somebody's always wrenching on something—will also be open to the general public. You just may see a restored bus or a WWII-era contraption of some sort.
"I just feel like we're a hub for makers in the first place," Bray says. "We don't really have that reputation, but it's like an extension of what we do already. Sort of pushing the envelope a little bit." As a result, the first-ever San Jose Mini Maker Faire will include at least 100 vendors and participants, all of which were whittled down from many more applicants to comprise the festivities. The entire park will be filled, so allow adequate time to be overwhelmed.
Just a few highlights: Local institutional heroes like TechShop, CreaTV, the San Jose Museum of Quilts and Textiles and the Guadalupe River Park Conservancy will each bring their own specialties and skill sets. TechShop, in particular, will operate numerous tents filled with activities. On a smaller scale, loads of independent and smaller organizations will provide glimpses into their work. Expect a tiltable electric tricycle and a transportable aquaponics greenhouse. Also on display: kinetic pencil sharpeners and robots that can solve a Rubik's Cube. Visitors will experience portable speakers, wood science and belly dancing, plus lace embroidery, nature journaling and homemade musical instruments. Arduino prototyping will share the limelight with sauerkraut fermentation. It's unimaginable that someone could attend and not find at least one crackpot experience to take away. Inspiration will emerge everywhere.
"We chose people that were really in the spirit of making and sharing," Bray says. "They really wanted to make something, they really to be enthusiastic, and wanted to share it with a broader audience. We have a really good group."
Mini Maker Faire
History Park, San Jose
Sept. 6
10am-6pm
$10/Adult $5/Child