Features & Columns
Vegan Chef Miyoko Schinner to Cater SJ Woman's Club Meetup
Mt. Vesuvius Black Ash might be coming to 11th and Santa Clara
streets in downtown San Jose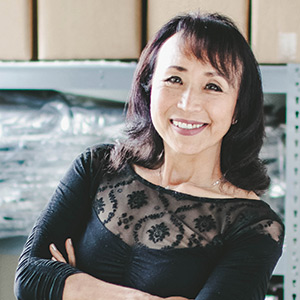 Mt. Vesuvius Black Ash might be coming to 11th and Santa Clara streets in downtown San Jose. On Jan. 26, the San Jose Woman's Club, in partnership with South Bay Vegan Drinks, will stage a rip-roaring fundraiser for the Rancho Compasión animal sanctuary.
Unfolding at the club's historic building at 75 S. 11th St., the event will feature a menu of food and drinks prepared by renowned vegan chef Miyoko Schinner, along with a silent auction to bid on food, dinner, local gifts and theater packages. The menu will feature Miyoko's award-winning cheeses (including her Mt. Vesuvius Black Ash) and several other dishes. Everything will be 100 percent vegan.
In case you're wondering, the San Jose Woman's Club is not a bunch of geriatrics wearing knitted shawls. The group participates in many facets of San Jose life, including scholarship programs, computer camps and short film events. Now they've hooked up with South Bay Vegan Drinks, a monthly meetup group.
"The San Jose Woman's Club is a very diverse organization," says Lisa Buchanan, the club's president. "We were looking to partner and increase that diversity and support organizations outside our traditional antiques and cards and that sort of thing."
Enter Schinner, a pioneer of artisan vegan cheese, and one whose story is way beyond the scope of this column. Among other pursuits, her company, Miyoko's Kitchen, provides artisanal products made from numerous whole foods and plant-based ingredients. Her creativity has resulted in tremendous accolades. For example, Mt. Vesuvius Black Ash was the first vegan cheese product to win a Sofi Award, sort of like the Oscars of specialty food. It is says that Miyoko "broke the mold" of dairy cheeses.
Of course, technically, California state law won't allow her to call a product "cheese" if there are no dairy ingredients, so you might hear phrases like "cultured nut product" bouncing around these conversations. Which is fine. Soy milk manufacturers went through the same ridiculous ordeal. They weren't allowed to call it "milk" at first.
What's more, everybody involved here focuses on the compassionate aspects of their craft. Miyoko also co-founded Rancho Compasión, a bucolic sanctuary in the West Marin County countryside, a nonprofit providing a home for previously neglected, exploited, or abused farm animals. A perfect companion effort to a vegan cheese business, Rancho Compasión launched in 2015, and all the funds raised by the gala hoedown at the San Jose Woman's Club will flow directly to the ranch.
The San Jose Woman's Club operates out of a Spanish Revival building originally constructed for the club in 1929. By 1946 the mortgage was paid in full. A legendary artifice of historical significance—San Jose landmark No. 32, to be exact—the building is a true diamond in the rough compared with the rest of the immediate neighborhood. If you harbor even a passing interest in architecture, or if you're clued in to the mostly male history of benevolent societies and fraternal organizations around the turn of the 20th century, the Woman's Club provides an intriguing alternative. The building's architecture, interior design, landscape, accoutrements and overall furnishings could easily be the subject of a full feature story.
And speaking of fraternal organizations, let us not forget South Bay Vegan Drinks, the other main sponsor of the fundraiser. A while back, a group of vegans began to meet at the Normandy House Lounge in Santa Clara. It was just a monthly meetup, a networking event to provide a place where vegans could find each other, a safehouse of sorts. Then it grew into something formidable.
"It was a way for vegans to find each other, get to know each other, because usually it's pretty lonely and people tease us," says Clyde Lerner, the group's director. "We have people that have been vegans for years but they'd never met any other vegans."
At the dinner, at least 150 are expected. In addition to Miyoko's Cheese platter, expect an Italian menu including Mushroom Lasagna and Chocolate Espresso Cake.
San Jose Woman's Club
Thu, January 26, 6:30-9:30pm, $30-$500
75 South 11th Street
408-294-6919