Features & Columns
Peanuts Cafe Creates San Jose Legacy by Keeping It Simple
Peanuts Cafe builds San Jose legacy by standing the test of time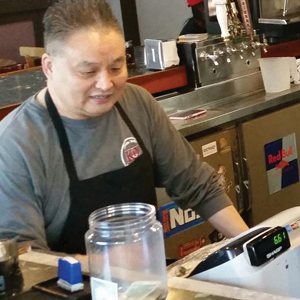 About 10 years ago I was lurking inside the legendary Peanuts Cafe on San Fernando Street, when an old-timer said to me: "If this place goes away, I'll blow up the new City Hall."
He was exaggerating, but I understood his sentiment. Thankfully, as far as I can tell, Peanuts is not going away anytime soon, and with the new academic year upon us, now is an opportune moment to celebrate the gorgeous downmarket establishment that San Jose State University (SJSU) students have frequented for eons.
You cannot call yourself a Spartan if you haven't been to Peanuts. The place soaks in its affordability. That's the point. It is not a joint for Michelin-starred chefs or a plate of chateaubriand. You go for the decades-old decor, the beer and the inexpensive omelettes.
Even better, you get Myun-Sik Chang, who has now operated the cafe for more than 35 years. Chang and his father worked as employees for the previous owner, before Myun took over the lease beginning in January 1983. Several years later he was able to acquire the property. Now, in 2017, Chang still shows up at 5am every day except Sunday, getting the place rolling for its famous dirt-cheap breakfast.
Funny thing is Chang doesn't remember why the business is called Peanuts. He says the previous owner didn't know either. What he does recall is that when he first opened, a plate of two eggs, hash browns and toast sold for 99 cents. If you wanted to add bacon, it became $1.49. Coffee tipped the scales at 35 cents.
"At SJSU, the coffee was $1.25 back then," Chang recalls. "I made mine 35 cents. I wanted to keep the customers. We got a good review in the Spartan Daily and the business just took off."
Chang is not the only trouper of the establishment, however. Two other employees, Juan and Raquel, have been at Peanuts for 28 years. The whole place feels like family.
"Without them, I can't run this business," Chang says, as I sit drinking a paper cup of glorious, downmarket coffee.
I can't help but notice that the only decor components updated since 20 years ago are the internet jukebox and the large flat screens in the upper corners. Everything else has remained the same over the years, with students, university staff and longtime locals continuing to roll in for breakfast or lunch. The pitchers of beer continue to flow, although the price has increased a bit and the variety has improved from the Bud draft and Amber Dark era of the 1990s. Pitchers were five bucks in those days. I can't even calculate how much beer I drank at Peanuts during my college decade.
But this is not nostalgia. If you walk inside Peanuts today, the place bubbles with activity. Framed photos and gift plaques line the walls, all given to Chang from various SJSU fraternities over the years. Hanging over the bar, there's even a historical 1952 photo of the last graduating class of San Jose High partying inside Peanuts, back when the school was located directly across the street, before it moved to its current location.
As such, the tradition continues. If you want to know where people are tearing it up during finals week, or on the last day of classes, go to Peanuts.
Chang remembers me from when I used to come in and watch soccer games 20 years ago, so we talk about how students have changed over the years. Nowadays, he observes, the masses carry smartphones, laptops, backpacks and earbuds.
"A long time ago, everyone just had backpacks," he says.
In my case, I often encounter people that haven't been to downtown San Jose in 10 or 20 years, lumbering down San Fernando Street on their way to Peanuts, just to see if it's still there. The place has a Paramount Imports flavor of staying power.
When students first move into the neighborhood, then finish college four years later, they won't remember any soulless building named "27 North" or "50 West" or "101 San Fernando." Instead, they'll remember a place like Peanuts, a place with character. If there ever emerges a true campus community, we need more places like Peanuts.
Peanuts Cafe
$
American (Diner)
275 E San Fernando St, San Jose
408.998.9778