Features & Columns
Sign-Maker Rey Giese
at Kaleid Gallery
Show at Kaleid Gallery will pay tribute to late master sign-maker Rey Giese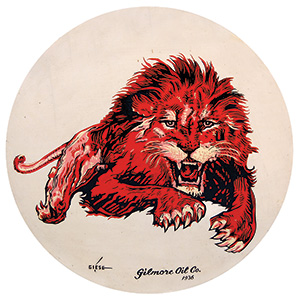 I am utterly embarrassed to say I never met Rey Giese, one of San Jose's master sign-makers, who passed away last year at the age of 93. Giese lived in San Jose all of his life and really was a living legend, one whose work still remains all over town, on signs, buildings, windows, ornaments and who knows what else.
His dedicated work inspired generations of not just sign-makers, but also painters and tattoo artists.
But now, thanks to Kaleid Gallery, a downtown San Jose institution at 88 S. Fourth St., a major exhibition of Giese's work will unfold in early February. Opening for the South First Fridays art walk on Feb. 7, the exhibit will also include works by a dozen contemporary artists and sign-painters, all re-creating some of Giese's original designs, as a way to pass the torch, keep his legacy burning and carry on the tradition.
Giese painted signs for almost 80 years. On one front, the exhibit is a showcase of his own craft, which provides a visual heritage of what San Jose looked like in generations past, through vintage signs and advertisements. That is, long before "branding" consultants and "business gurus" started ruining everything. From another angle, patrons will get to experience contemporary artists who refuse to participate in the mass manufacturing of culture and who cite Giese as a major influence in that regard.
Ken Davis is one of those artists. He says meeting Giese was a life event much more meaningful than anything on a Facebook timeline.
"When you see all the signs, that signature pops out just as much as the signs do," said Davis. "Because it's so recognizable. He trademarked himself without even giving a crap about trademarking himself."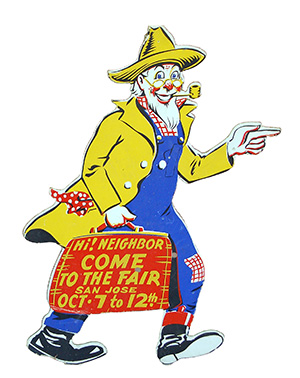 Since making reproductions of signs by old masters is a common practice among contemporary sign-makers, Davis will contribute a new version of a goldleaf reverse-glass cigar advertisement that Giese originally painted for Garden City Billiards.
"It's very rare for somebody to pursue something with zeal for that long and produce a great body of work," Davis added. "And this show is going to reflect that."
Local tattoo artist Orly Locquiao will also participate in the show. Upon first meeting Giese, Locquiao said he was blown away by the sheer volume of Giese's work and immediately related to the old man in his environment.
"When I first saw his house, I noticed all the hand painted signs, of animals, cartoon characters, welcome signs," Locquiao recalled. "Right then I knew that this was the place for me. He welcomed me into his garage art studio, and I almost exploded from all the history, all the art, signage and organized chaos that filled the space. I love spaces like that, all the art and references stacked behind each other, on top of each other and every which way. There was no part of the garage that wasn't covered in some type of picture or sign."
Kaleid Gallery itself is a perfect place for this show and a perfect example of what should be located at a major downtown San Jose intersection where students, locals and businessfolk all come together. During the holiday season, hundreds of folks drift in from events like Christmas in the Park to pick up artwork, limited editions or oddball creative gifts. For years now, the gallery has hosted regular get-togethers with artist demonstrations, live painting, music and other creative acts, even on the sidewalk. That's all in addition to monthly art shows, as well as spaces for artists who show a small collection of works on a regular basis. As a whole, the gallery dovetails exactly with everything the city has been talking about for years, in regard to "creative urban synergy," "placemaking" and "business buzz," notwithstanding the celebration of heritage, creativity and the arts, and especially how culture is a main factor in why anyone would possibly want to move here. It would be a travesty of justice if some conniving politicians ever decide to boot the gallery out of there.