Features & Columns
Stone-Cold Storytellers
Former Stones, Dead tour manager reunites
with longtime music writer to discuss rock legends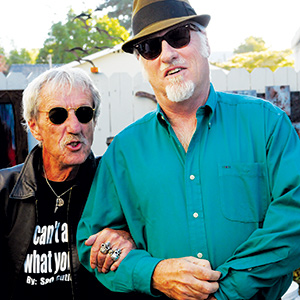 Just a few years ago, Studio Bongiorno opened up in the old California Monument Building in Santa Clara, right across the street from the Mission Cemetery. For an art gallery, performance space and overall gathering spot, the joint is a nucleus of crackpot activity.
This week, two living monuments, former Rolling Stones tour manager Sam Cutler and legendary rock journalist Joel Selvin, will provide a rip-roaring conversation for anyone interested in rock history, especially Altamont.
Cutler operated with the Stones in the late '60s. From Hyde Park to Altamont, he was there, doing what was essentially a thankless job. For perhaps decades, Cutler was the dude most often scapegoated in the American media for the entire Altamont fiasco, that is, when the Stones played their ill-fated free concert that resulted in the death of an audience member at the hands of a Hells Angel. According to both Cutler and Selvin, much from Altamont has yet to be revealed. In fact, Selvin is at work on a book that should provide the final word on that dark historic event.
Cutler's own 2010 book, You Can't Always Get What You Want: My Life With the Rolling Stones, the Grateful Dead and Other Wonderful Reprobates, presents his side of the sordid details from Altamont. It's an amazing piece of work. The Stones essentially bailed after the whole thing was over, leaving Cutler to deal with 100 percent of the fallout. Even after Cutler illuminates the roles played by surrogate Hells Angels, the mafia, the feds, the incessant hanger-ons, groupies, lawyers, promoters and politicians, it becomes clear that the complete story still hasn't really been told. Hopefully Selvin's book will do that.
After Altamont, Cutler's book moves on to his tenure as the Grateful Dead's tour manager in the subsequent years. After the chaotic narcissistic circus of the Rolling Stones, the Dead scene was polar opposite. According to Cutler, although everyone was wasted, including himself, the adventure was much more of a family-style journey. Unfortunately, at that stage of the Dead's career, the band commanded no business sense and Cutler almost paints himself as the wise old sage just trying to right the ship in a mess of drugs and alcohol, while barely getting paid anything. Of course, this was long before the Dead rose to multimillionaire stadium rockers.
Cutler could have bashed both bands out of sour grapes. But he didn't. That would have been a terrible book. Instead, it seems like he spent some serious years grappling with how to forgive, who to forgive, and that he harbors deep respect for the Stones and the Dead, especially now in his old age and now that he's turned into a writer. Writing tends to do that to people. It makes them more self-reflective. And some damn good stories explode from the pages of his book. Not all the gaps get filled in, but it's a great rock 'n roll memoir.
This Friday will not be the first time Cutler and Selvin have co-headlined in Santa Clara. In 2013, when Cutler descended upon the States for the first time in years, the two appeared at Studio Bongiorno for a rip-roaring conversation. The stories were hysterical. One in particular featured Cutler punching out Bill Graham on the stage of the Oakland Coliseum, and then going through Jagger to essentially humiliate the famous Napoleonic promoter in his own element. According to Cutler, Graham always hated the Stones after that encounter. They were the only band he couldn't dominate.
In 2013, that event at Studio Bongiorno with Cutler and Selvin was a lightning bolt of pure magic. The crowd overflowed onto the sidewalk outside. Cutler told stories about Mick Jagger, Keith Richards, Janis Joplin, Jerry Garcia, Bill Graham, Jimi Hendrix, Syd Barrett and others I can't even recall. And he's an authoritative source. With him, sitting right there was Joel Selvin himself. Together they provided stories normally relegated to the bars after the show. Again, this was on some nondescript corner of suburban Santa Clara across from a cemetery. Who thought that would ever happen? Well, this Friday it will happen again. I guess lightning really does strike twice.
The Legendary Sam Cutler with special guest Joel Selvin
500 Lincoln St, Santa Clara
July 31, 7pm -10:30pm
Admission free, books on sale