Features & Columns
SJSU Art Department Celebrates its Centennial with Multiple Shows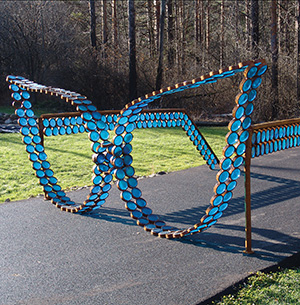 As you read this, a transition is occurring on multiple levels. On the macro level, the San Jose State University Art Department is celebrating its centennial. That is, through various institutional moniker changes at the university level, college level, department level and concentration level, a 100-year continuous milestone of instruction has now been reached.
As the Department of Art and Art History transitions into whatever the next era brings, a multi-tentacled outpouring of exhibitions is currently unfolding, both on and off campus.
At the micro level, right now, one major exhibition is currently wrapping up in the Natalie and James Thompson Art Gallery at SJSU, while another is just beginning at the Triton Museum in Santa Clara. Both feature SJSU graduates who long ago moved on to intriguing accomplishments.
The Thompson Gallery show focuses on a small number of illustrious alumni from the "middle period" of the department's history, including Jay DeFeo, Wayne Thiebaud, Mel Ramos, Robert Graham, Mark Tansey and Tim Hawkinson. We see many works usually overlooked in the course of these artists' careers. The Triton show, the opening reception of which is this Friday the 13th, features more recent graduates. Ted Fullwood's pipe cleaner sculptures grace one corner, while a giant Lou Bermingham work commands a presence on the back wall.
Other deployments of historical note include an exhibition of design posters on the fourth floor of the MLK Library, Department of Art: The Graphic Eye, displayed until the end of this year. In particular, one 1975 poster titled, "Get Your B.A. at San Jose," features 50 people mooning the camera.
On still another level, we also now have a glossy and glorious hardback tome elaborating on the department's entire existence. Available for purchase at the Natalie and James Thompson Gallery, Creativity, Change, Commitment: A Celebration of 100 Years of the Department of Art unfolds, literally, into a multi-leveled volume of interviews, essays, pictorial histories, timelines and reflections of, by or about previous faculty, students and instigators who operated within the hallowed walls of the art building(s) over the last century.
The crowning reminder one immediately perceives in the pages of Creativity, Change, Commitment, again, on several levels, is just how much of a role the art department has played in the course of the university's history. Just like SJSU boasts a long, twisted and intriguing history—which many students simply take for granted, if they even care at all—the art department likewise boasts its own hefty lineage of characters and crackpots that most current art majors probably aren't familiar with.
Which is precisely why I should reacquaint my readers with the history involved here. The institution in question was originally established in San Francisco as Minns' Evening Normal School in 1857. A few years later it was absorbed by the State of California, becoming not only the first of the state's teachers' colleges, but California's first state-supported institution of higher learning. In 1871, it moved to San Jose, where it went through a series of transitions: into San Jose State Teacher's College, then San Jose State College and finally San Jose State University. In the early days, art classes were considered an important component of everyone's education. Gee, what a concept. Finally, the art department traces its beginnings to 1911. Creativity, Change, Commitment divides the last century into three predominant eras: Early Years (1911-1945), San Jose State at Mid-Century (1946-1970) and Contemporary Responses (1971-2013).
I was never officially an art major, but I took classes, rendered images, wrote critical essays, hacked in OpenGL, assisted in group projects, applied Deleuze and Guattari to packet-switching networks, rifled through dumpsters, ran soundboards, hung out, philosophized, argued, laughed, drank or slept in the building, off and on, during my entire college era. And as a third-generation SJSU graduate—my grandmother attended San Jose State Teacher's College—I'll cop to some sentimentality when perusing the many levels of Creativity, Change, Commitment. Somehow, my experiences in that building always seem to come back into my life. Here's to the next 100 years!