Features & Columns
SLG Art Boutiki Reopens
Slave Labor Graphics gets ready to bring a slice of Bohemia
to its new home on Race Street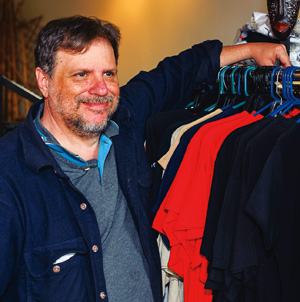 Just in time for Free Comic Book Day, one of San Jose's legendary underground bastions of zonked-out jazz, Tiki culture and graphic-novel insanity shall revive itself anew on Race Street, just off The Alameda. The circus begins this Saturday afternoon.
For a decade or more, Slave Labor Graphics (SLG) and its own Siamese Twin (a la Basket Case), Art Boutiki, operated on Market Street near Metro's offices, providing lounge lizards and comics aficionados a warehouse space in which to slither around and soak it all in.
The publishing company operated out of the warehouse, while the bands gigged on a temporary stage in the back. The gallery doubled as a retail store where said lizards could skulk around and peruse a plethora of kooky comics, plus T-shirts and other souvenirs.
At that building, Slave Labor also staged workshops, mini-flea markets and numerous other sordid affairs for discerning connoisseurs of high camp. The joint was a fixture during South First Fridays, and they even sold hockey jerseys with logos from the old Flying Pig Pub on First Street. If that's not local flavor, I don't know what is.
Now, at a prime, gritty new locale at 44 Race St., at The Alameda, SLG Art Boutiki just might possibly help anchor a new idea—that is, a reconsidered stretch of road. Two years ago, in this space, the anti-man-about-town philosophized that, with the arrival of boutiques like the Usuals as well as Black and Brown, an awesome new rebirth of that ignored thoroughfare was about to begin—that a tiny new appendage of artsy Bohemia could be in the works. Of course, he was not the only one to make this observation. It turned out quite a few others had similar visions in mind.
The Art Boutiki, in its new space, will help move that idea forward. We hope. With that perspective in mind, the anti-man-about-town creeped into the new spot last week to bask in the dust and pizza boxes while honcho Dan Vado, et al., were building the place out. His yellow Labrador, Homer, jumped leaped about, greeting whoever decided to show up announced.
As Vado walked me through the 7,000-square-foot facility, it became apparent that the building is a much better space than the previous ramshackle establishment on First Street. There is more retail area in the front, a much larger space for the gigs in the middle and gargantuan amounts of office and storage space.
In the middle space, everything was still being constructed. Various couches lay strewn about, vinyl LPs were stacked in boxes, pieces of microphone stands and amplifiers occupied various sections of the floor, and the portable stage was folded up. Plastic containers overflowed with Star Wars toys; oddball Tiki sculptures appeared in various stages of functionality; the back wall was freshly painted with the SLG Art Boutiki logo; and bamboo siding hung in front of another wall.
Miscellaneous potted plants, jars of spackling and gloriously unmatched sets of chairs sat around, as if waiting for a party. A tuned piano held its own in one corner, while a scissor lift seemed ready for action on the other side of the room.
Natural light streamed in from the roll-up door, which also allowed traffic noise from Race Street to filter through. The anti-man-about-town felt excited to see the guts of a new place from the ground up. Contemplating the entire stretch of The Alameda, one can easily envision a new Whole Foods, post-arena-artsy-madness-turned-San-Jose-Made-Boutiki, vintage clothing and comic subculture stew beginning to cook on the burner.
Vado says that unlike before, the publishing company can operate separately from the band space and vice versa. The footprint of the building facilitates his operations much better.
"Before, the bands would be in our order department. Now they can store their stuff in the back, and it's locked up. Everything is more compartmentalized. People who frequented our space will be happy to know that there are now two restrooms instead of one."
All in all, Tiki now reigns free on Race Street. Take your maroon fez and your soft blue blazer out of the closet and slither on over.
"It's Tiki but not tacky," Vado says. "We're trying for a Polynesian theme, but not to where it's overwhelming everything in the store, the stage and everything."
SLG Opening Party
Saturday May 4, Noon
44 Race St., San Jose