Features & Columns
Sam Cutler Comes to Studio Bongiorno
One-time Dead and Stones manager Sam Cutler comes to new Studio Bongiorno to tell what really happened at Altamont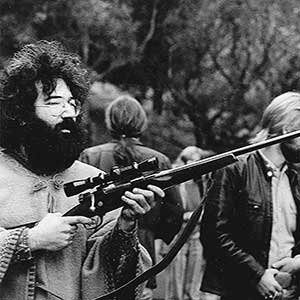 Upon crossing the threshold at Studio-Bongiorno at Bellomy and Lincoln streets, a soft Santa Clara breeze follows me in. Eclectic artwork hangs on the wall. Vintage rocking chairs sit idle. Homemade candles offer themselves at various prices.
The coffee bar, surrounded by more artwork, sits behind the original teller window from San Jose's Bank of Italy Building. Classic rock blares from the stereo. Custom soaps and postcards occupy spinning circular wire racks.
Phil Bongiorno operates the joint, housed in the building formerly occupied by the California Monument Company, which manufactured headstones for the graveyard across the street. In fact, shattered granite remains of cemetery statuettes, grave-marker stencils and slabs of marble remain in the storage yard outside, along with slews of rusty paint cans from decades gone by.
Eventually, Bongiorno shepherds me into the courtyard area, where I gaze at another homemade bar, replete with wine, antiques, rusted artifacts and various donated materials from friends, artists and other eccentrics.
Across the yard, I can see more gallery space, another few rooms and still more donated materials, including a killer spinet piano. People just seem to bequeath their unwanted furniture and ephemera to Studio-Bongiorno, hoping it will add to the creative and beautifully junky atmospherics of this wonderful place.
"Random stuff shows up daily," Bongiorno tells me. "People dig the energy, and they just give me stuff, everything from handbags to watches to sheet music."
Bongiorno himself creates works out of found materials. If someone donates a rusty old stovepipe, well, it just may wind up in one of his collages.
"I'm getting a little Sanford and Son-esque with all the junk, but if something talks to me in a way, I can make art with it."
Hearing Bongiorno say that immediately brings the Sanford and Son theme into my head, and the only missing component is Chico the goat wandering over from next door. Studio-Bongiorno has that kind of effect. It's like an antique shop, a gallery space, a meeting spot for creative outcasts and a systemic recycling potlatch all in the same gorgeously ramshackle habitat. It's exactly what San Jose's art scene is desperately missing, to be honest. Good on Santa Clara.
Art shows take place each month, many of which feature artists exhibiting for the very first time, although the work is not junk in the least bit. There's obviously a degree of curatorial standards employed. Last month, for example, the highest amount a work fetched was $1,200. So far this month, says Bongiorno, that number is $675.
And there's more. Since the courtyard area holds about 50 to 75 people, Bongiorno stages numerous events between art openings, including a blockbuster hoedown set to erupt on Saturday, July 6.
Sam Cutler, former tour manager for the Rolling Stones and the Grateful Dead, will stop by to talk about his 2010 book, You Can't Always Get What You Want: My Life With the Rolling Stones, the Grateful Dead and Other Wonderful Reprobates. Cutler is in the United States for the first time in many years, and the stories will undoubtedly please any rock & roll fan.
Cutler, of course, is the dude most often demonized in the American media for the 1969 fiasco at the Altamont festival, where the Stones played their legendary free concert that resulted in the death of an audience member at the hands of a Hells Angel.
I have only read parts of the book, but Cutler does present his side of the sordid details. In one case, he relates a conversation with Jerry Garcia soon afterward; Garcia told him that none of the Hells Angels Garcia knew in San Francisco were involved with the violence. Instead, those responsible were outsider rural rubes with no connection to the Bay Area, who came just to beat the crap out of the hippies they despised. They came from San Jose, San Bernardino and Fresno, Garcia told him.
There you have it. Eclectic artwork, soap, incense, coffee, tea, booze, rusty stoves, clown paintings, aging rock legends and a great piano that's even in tune. Inspired by it all, I found myself playing Stones tunes without even trying.
Sam Cutler
500 Lincoln St., Santa Clara
July 6 7:30pm