Features & Columns
Cultures, Anniversaries Converge
in Dublin Sister City Trip
San Jose's vice mayor, Rose Herrera, took part in a lively panel for
the San Jose-Dublin Sister City program.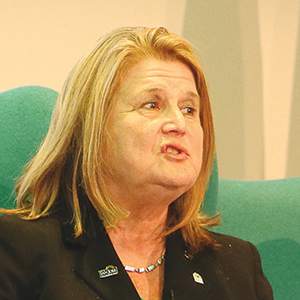 Ireland is a mystical country, so it seemed apropos to experience last weekend's USA-Ireland Sister Cities Summit as a mystical convergence on multiple levels.
Thanks to the San Jose-Dublin Sister City Committee, and especially Tim Quigley, a grand-scale embroidering of trajectories all came together in a tapestry of citizen diplomacy, person-to-person and community-to-community connections in business, arts, economics and more.
To begin with, the event celebrated numerous historic milestones all at the same time. Locally, Dublin and San Jose are celebrating the 30th anniversary of their sister city relationship, founded in 1986. Globally, Sister Cities International, the worldwide citizen diplomacy movement President Eisenhower launched in 1956, is celebrating its 60th anniversary.
Ireland was also celebrating the centenary of the Easter Rising that took place in 1916 in Dublin, which precipitated Irish independence. There's also the centenary of the WWI Battle of the Somme and the 20th anniversary of the Good Friday Accords. Quigley, along with Peter Finnegan, the Dublin City Council's director of international relations, spent the last 18 months organizing the event. Nothing of the sort had ever occurred.
For one whole day, panel sessions took place in the meetings facility of Croke Park Stadium, itself an important historical landmark in regards to Irish independence. Any U.S. city twinned with an Irish counterpart was invited to send a delegation, and since San Jose was the organizer, a few dozen local folks made the journey to attend or participate in the panel sessions. Vice Mayor Rose Herrera appeared on a panel with the mayors of Dublin, Liverpool and Guadalajara, Mexico, on the value of city-to-city linkages in today's world. (Side note: Dublin and San Jose are both twinned with Guadalajara, so word has it a special trilateral union of sorts might already be in the works.)
Another panel focused on education and youth, moderated by U.S. Ambassador to Ireland Kevin O'Malley. In O'Malley's case, he showed a photograph from 25 years ago in his native St. Louis, when he was president of the St. Louis-Galway Sister City Committee and Michael D. Higgins was his equivalent on the Galway side. Now Higgins is the President of Ireland, O'Malley is the ambassador, and there they were, speaking at this summit, one in the morning and another in the afternoon. On O'Malley's panel we also saw Orla Feely, University College Dublin's veep of Research, Innovation & Impact, who just happened to be the daughter of Frank Feely, who was instrumental at the very beginning of the San Jose-Dublin relationship 30 years ago. She fondly recalled the initial stages of the alliance and how it forged every level of Dublin's growth in the technology sector.
Such was the vibe of the entire event. Everyone seemed to be establishing or renewing partnerships or forging new dimensions of citizen exchanges in the areas of education, business, art, athletics or culture, all strengthened by sister-city relationships. To see so many individuals from so many different professions, all championing the role of citizen diplomacy, studying abroad and global fellowship—it was inspiring, to say the least.
With that, the final panel session evolved into the most entertaining spectacle of the whole day. Kathleen Powell of Cinequest could get barely get in a word edgewise with Academy Award-winning director Jim Sheridan, an inimitable Irish legend. Sheridan stole the show and told stories of his humble beginnings, as well as lambasted the church and lamented the government's decreasing support for the arts. On that same panel, we saw Irish musician Roisin O, who actually came to San Jose State as a foreign exchange student not too long ago. She told great stories about living at the school's International Center and learning about women's rights activism in the context of Islam from her Pakistani roommate.
The San Jose-Dublin partnership has now become a model for other cities. Even better, the conference ended with a Henry Miller quote projected on the screen: 'One's destination is never a place, but a new way of seeing things.'