Features & Columns
San Jose's Soccer Fandom Grows after MLS All-Star Week
The MLS All-Star game and accompanying festivities took over the
San Jose landscape in a multitude of ways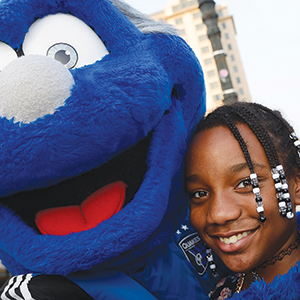 Over five days, the Major League Soccer All-Star game and accompanying festivities took over the San Jose landscape in a multitude of ways. In addition to the main event, other components included concerts, live TV broadcasts and local community service work, all of which provided potential insight into how the game and fan base continue to grow in San Jose.
During the match pitting the MLS All-stars against Arsenal, one of England's most storied clubs, 20-year-old Chuba Akpom scored the winning goal for Arsenal in the final minutes. He was one of many younger players manager Arsene Wenger chose in order to test his club's mettle. This made for intriguing comparisons to the MLS All-stars, which included a handful of European players who'd come to MLS after completing their prime years back home—folks like Andrea Pirlo, Kaka, Didier Drogba and David Villa. In Akpom's case, he said it was like competing against all the legends he'd already played with on FIFA, but unlike a video game they all now shared the same field in reality.
Akpom joined Arsenal's youth development program at age six and came up through their system before being loaned to various lower division clubs. Now he's trying to battle his way into Arsenal's starting lineup. This is exactly the type of excitement that should unfold once the Earthquakes build their new academy complex at Guadalupe Gardens, a project in partnership with the city and the Guadalupe Park Conservancy. Young kids might join the academy and, if they're serious, theoretically rise up through the system and perhaps even land a spot on the professional team. Such scenarios are part of how the game grows on a local level, and how residents can become more emotionally vested in the team and connect to the culture. More people then become interested in the club, its history and how it all relates to the local landscape. Everything is connected.
Several MLS All-star Game partners also gave back to the San Jose community by building a miniature field at Ocala STEAM Academy. The pitch was part of the 20 for 20 Mini-Pitch Initiative, a commitment the partners made to build 20 mini-soccer fields in underserved communities across North America. Rather than kids resorting to play in the streets, where numerous problems can occur, each field provides children and local communities with an unstructured but safe environment, supporting the continued growth of the game. This way, many kids can take it upon themselves to develop their own creativity and natural instincts for the game while meeting other players in the process. Everybody wins.
As part of these developments, Ocala STEAM Academy will also soon house San Jose's chapter of Soccer for Success, a free nationwide afterschool program for underserved areas in which at-risk youth can receive coaching and mentoring. Kids, as well as their parents or guardians, learn about nutrition, teamwork, persistence and other life skills they might not have a chance to develop. This also helps to create more potential fans of the hometown club, of course.
Meanwhile, all last week, both San Pedro Square Market and Plaza de Cesar Chavez, two of San Jose's most popular locales, transformed into mini-headquarters for the All-star Game events. In the park, Celebrity Soccer-Tennis matches took place, with notable appearances including Brandi Chastain and Landon Donovan. Members of Arsenal's staff even ventured out from their rooms at the Fairmont to join. Donovan was in town to coach the MLS Homegrown team, which went on to lose 2-0 to Mexico's U-20 team.
Plaza de Cesar Chavez also featured NBC's Men in Blazers, aka Michael Davies and Roger Bennett, who broadcast live from the stage to a seated audience of 500-1,000 people. Of course, they just had to open the whole show with that nauseating Dionne Warwick song that even she doesn't like, but quite a few athletes and personalities joined them on stage, including 'Quakes forward Chris Wondolowski and coach Dominic Kinnear. To conclude the show, the Men in Blazers then brought out Krazy George. All in all, numerous layers of San Jose soccer culture remained on display for the world to see.