Features & Columns
Tide Turning for San Jose's Literary Scene
William Finnegan has had to balance his surfing passion and aversion to office politics to tell the stories that earned him a Pulitzer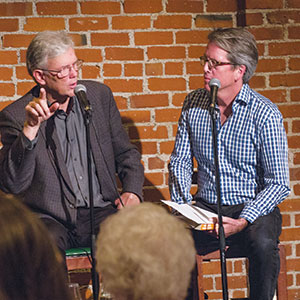 William Finnegan, Pulitzer Prize-winning author of Barbarian Days: A Surfing Life, showed up last week at Cafe Stritch to give an articulate, crafted presentation about his life and work, after which he conversed on stage with Steve Kettmann and signed books for quite some time. It was the type of event that yet brought a recurring question to mind:
Why wasn't San Jose doing this 20 years ago?
Presented by the Center for Literary Arts at San Jose State University, the event was the second time this semester, following Viet Thanh Nguyen's near-sold-out event at the Hammer Theatre Center, that the center took strides in bringing major literary events into the urban fabric of downtown San Jose, rather than confining authors to a library meeting room.
The way I see it, this situation deserves contemplation. Ask anyone who was involved with the university 25 years ago, and they will say downtown San Jose offered nothing—certainly not a theater or a jazz club—where one could stage literary events or an after party. Nothing resembled anything "urban." If an event kept people on campus until 9pm or 10pm, there was nowhere for peeps to gather afterward, except maybe Original Joe's or Kukar's House of Pizza.
Even in recent years, the center staged the majority of its events on campus, either in the library or another building, resulting in mostly student audiences and maybe several dozen tuned-in folks on the periphery of academia. While some extraordinary author events have unfolded at SJSU every single semester, for decades, they always felt isolated from the urban fabric at large.
Now things are evolving. Plus, literary events just feel more fun when they're urban. They need to be taking place at jazz clubs with booze and bites. The famous appearance of a wasted Jack Kerouac on the Steve Allen show, with Allen manipulating the ivories, comes to mind. Jazz environs and literature just go together.
So the Center for Literary Arts seems to be reaching an inflection point. Last month, for example, The Sympathizer author Nguyen filled the Hammer Theatre. Those in attendance included the current and a former mayor, both members of the Bellarmine World Order just like Nguyen himself. The politicians might not aspire to Pulitzer Prizes or $650,000 MacArthur "genius" grants like the one Nguyen just received, but with people around here blathering for decades about 24-hour downtowns or upmarket student housing, it was great to see literature taking its rightful place in conversations about how the university needs to better connect with the local landscape.
I departed the Nguyen gig thinking that SJSU was finally on a path toward becoming an urban university. It won't be NYU with Washington Square Park, Greenwich Village and the entire row of cheap Indian restaurants nearby on Sixth Street, but progress is clearly happening.
Which brings me back to Finnegan.
Last week, he filled Cafe Stritch and said on stage that the gig was a "nice change from a classroom lecture hall." Like Nguyen, his work comforts the afflicted and afflicts the comfortable. The mayors didn't show, but the place was jammed. Unlike many author events where a writer spends most of his or her allotted time on stage reading from already published books, Finnegan brought several pages of prepared remarks, mostly focusing on his life as a freelance reporter or staffer at The New Yorker and working in dozens of ravaged countries including the worst era of apartheid in South Africa.
Finnegan illuminated the outsider life of a surfer, with its intrinsic struggle against responsibility, and how he found it difficult to "come out" as a surfer, fearing he would not be taken seriously as an international political reporter. Also, and I'm paraphrasing here, Finnegan threw light on the dichotomy of how he wants nothing to do with the 9-5 world of hierarchies, bosses, capitalist work weeks, sedentary domestication and predictable routines. He wants to remain an outsider who doesn't participate in such systems, but at the same time he still wants to tell stories and help people, speak truth to power and comfort the afflicted. It's a serious dichotomy, to which I can totally relate. I think most journalists can.
As with the Nguyen gig, I departed a little more inspired. And a little more urban. Hail Spartans, Hail!