Features & Columns
Paul Child Inducted to
San Jose Sports Hall of Fame
San Jose Sports Hall of Fame inducts Paul Child, star striker for original Earthquakes soccer team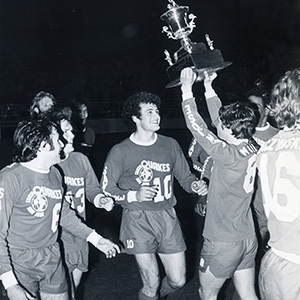 In 1974, San Jose was an absolute wasteland. If one was a child at that time, your parents took you to Eastridge for fun, since it had just opened a few years earlier. That or you went to Frontier Village. There was simply nothing else to do here. When Milan Mandaric launched a North American Soccer League franchise in San Jose that year, everything changed.
The original San Jose Earthquakes games jammed Spartan Stadium every single time and the players connected with everyone on a human level, giving San Jose its first ever professional sports identity. They were a community-based, working-class squad from the very beginning, a club that for many of us put San Jose on the map for the first time.
The first star striker for those original Quakes teams, a young Englishman named Paul Child, became San Jose's leading goal scorer through 1979, and subsequently San Jose's first professional soccer star. Next week he returns to get inducted into the San Jose Sports Hall of Fame, a moment long overdue.
Initially from Birmingham, Child came up through the Aston Villa football club's youth system, but by age 19 the coach had deemed him too old. Child came to the U.S. in 1972 to play in Atlanta until the team folded in 1973. He had actually gone back to England, to stay at his in-laws' flat, before Milan Mandaric talked him into making a move to San Jose for the Earthquakes' inaugural season. Now a longtime resident of Pittsburgh, Penn., Child still has fond memories of those working-class squads, the fans, the legendary players he battled against and his time in San Jose.
"The team was the only thing San Jose had," Child recalled. "That's what the great thing was—we were accepted so greatly by the people, and the fans. ... It was magic. We'd play our hearts out for the fans, you had a stadium that held 19,000 people and it was packed every game, and all you wanted to do was send those people home happy and get a victory."
At that time, the Quakes prided themselves on a working-class mentality above all else. The majority of the fans at every game had previously met some of the players already. No one on the team was in it for the big bucks, simply because there weren't any big bucks.
"We just had a bunch of hard-working guys that wanted to go out and play for the people who paid money to come watch us play," said Child. "As I look back on it now, that was the real difference. Now you have the Beckhams of the world and all these stars of the teams, but we just worked hard for each other and had great chemistry. ... And the city itself just accepted us. That was the difference."
Perhaps the best aspect of those days, either from a player's perspective or that as a youth in those crowds, was that some of the world's best footballers participated in that league during the '70s. After his coach had written him off at 19, Child was able to come to the U.S. and play against Pele, Franz Beckenbauer, Gerd Mueller, Johann Cruyff, Eusebio and George Best, essentially all the legends he'd grown up idolizing. He would never have played against those guys in England.
Child says it's all fodder for life's lessons, no matter what sport you're in. Never give up and you just may wind up in some hall of fame somewhere.
"When I left England, I felt at the bottom of the barrel," Child said. "It was the biggest downer. But then I get the opportunity to play against all those guys I'd grown up watching. ... [It's like being in a slump] but then you get out of that hole and you never quit. That's what this is all about, it's to tell the younger athletes that are coming along that you just don't quit. You keep on going, and you'll have your ups and downs, but at the end, if you just keep on trying as hard as you can, you'll come out smelling like roses."
Induction Ceremony Dinner
nov. 20
$250/per person