Features & Columns
Historic San Jose Woman's
Club Gets 3D Modeling
In a neighborhood characterized by stray drunks with open cans of Old English,
the San Jose Woman's Club building is a true gem.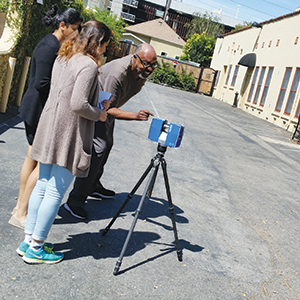 In a neighborhood characterized by stray drunks with open cans of Old English, the San Jose Woman's Club building is a true gem. A gorgeous Mission Revival-style building on South 11th Street, the club rents out spacious areas for numerous events, banquets and concerts, in addition to hosting the club's regular activities.
Inside, one finds a wealth of original stylings dating back to the 1920s: antique furniture, original Albert Solon tile work, wrought iron fixtures, sliding doors, heating coils, railings, door hardware, custom glass pocket doors and a sprung wood dance floor.
When I arrive, Brian Miller, another true gem, is toiling away outside, taping paper targets all along the perimeter of the building in preparation for 3-D modeling. As founder of a company called Pointz Taken, Miller focuses on historic preservation of San Jose landmarks via laser scanning. He does this in such a way that he can then supply architects and engineers with a realistic walk-through 3-D model of the structure, so that they, in turn, can explore retrofitting ideas without having to visit the building over and over again. Miller has already covered the Peralta Adobe and the Rosicrucian Museum, laser scanning them for the same purpose.
Now he's tackling the San Jose Woman's Club, a building in dire need of air conditioning and future renovations. An accurate 3-D walk-through model of the inner and outer components of the property can provide levels of detail not visible to the naked eye, allowing preservation to begin much sooner, before visible damage occurs. Companies can then determine potential repairs and replacements more easily, as well as predict which parts of the building are concealing issues like broken pipes. In general, 3-D laser scanning is starting to revolutionize the construction business as well as the historic preservation community.
Before I can ask Miller to tell me what's going on, he buries me with rapid-fire verbiage and over-the-top contagious enthusiasm for what looks to be a killer project. Miller's thriving passion for his job is infectious, and what's he up to here on South 11th Street is a true Silicon Valley endeavor: an intersection of engineering, art, design and technology, but with a sincere passion for local history, which most technologists don't usually have. In that sense he's a hero. He's not some fetishist showcasing technology for technology's sake.
Even better, Miller is a local. For years he operated the city department in charge of San Jose's convention and cultural facilities, before Team San Jose existed. That was quite some years ago. Miller is now retired, but he harbors a near-giddy love for San Jose. What's more, he uses hi-tech machinery to noble ends.
Best of all, this project includes high schoolers who've volunteered to assist in the process.
As Miller and I continue to inspect the historic property, two girls from Notre Dame High School's robotics club arrive to assist him with laser-scanning the building. During the process, Miller and the students will capture the exterior of the building via several different laser scans and conduct a preliminary scan of the interior. Afterward, the girls will take the scans and the data back to school, where they will apparently develop the 3-D model themselves. FARO Technologies has even donated a FARO 120 laser scanner and software just for this project. Everyone is working on a volunteer basis.
"I just want to document historic San Jose as much as possible," Miller says while setting up the FARO 120 in the parking lot, adding that it will take about eight minutes for each single 3-D scan. He anticipates about 20 scans to cover the entire perimeter of the building. Since Miller has two teenage girls himself, he's enthusiastic to pass on his tech knowledge to students at Notre Dame, who appear to be digging the experience.
"The girls can now take this technology and figure out how it applies to history, and how it applies to them," Miller tells me. "And that's what's beautiful about it."