Features & Columns
Silicon Alleys: Anti-Man-About-Town Reflects on Column's 15th Year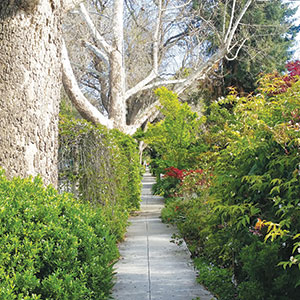 In his essay, "Return to Tipasa," the Nobel Laureate Albert Camus included a line now often quoted in the COVID-19 era: "In the middle of winter I at last discovered that there was within me an invincible summer."
Meaning, maybe we will come out of this even stronger. Which is why, despite now being the official 15th anniversary of this column, I will momentarily cast aside any celebrations, or at least give them a different spin. At the moment, sickness and suffering continue to characterize society even more than usual, with heavy loads of stress, anxiety and fear collectively overshadowing any humble anniversary brags I would throw your way. So for the moment, I offer something more important: gratitude. Not just for you, the readers, but for everything this landscape has given me over the last 15 years. And gratitude will get one through a lot of hard times.
For example, while we're still allowed to exercise via long solitary walks, I went for takeout Indian food in Willow Glen. During this extended leisurely saunter, which included a few detours through empty desolate side streets, a lifetime of gratitude emerged from every direction of the landscape, both in a physical and temporal sense. I didn't plan this in advance. It just happened. As always.
By itself, Willow Street makes me feel grateful. In 2013, I wrote about Ricardo's Pizza, where the Doobie Brothers first started out as the house band 50 years ago. The same joint hosted Chet Baker on Jazz Tuesdays, but insisted he stash his trumpet in the office so he wouldn't pawn the instrument for money to buy smack. Steps away, also 50 years ago, sat Babe's Muffler, complete with a gigantic Babe statue overlooking Willow and Vine just like Christ the Redeemer overlooking Rio de Janeiro. Willow Street has given me so many stories over the years that I'm simply honored to be a native.
So when I arrived at New Indian Cuisine near Bird and Willow for some fantastic vegetable korma, I couldn't help but get a little sentimental. Just like Roy's Station in Japantown is San Jose's best Buddhist reincarnation of a gas station, New Indian Cuisine is San Jose's best Punjabi reincarnation of an auto parts store. It reminds me of this column's 10th anniversary, when I wrote about my parents. My mom, whose ethnic roots are pure Anglo, grew up in Willow Glen, while my dad was from India. Meaning, I'm "Half-Indian, Half Anglo-Willow-Glen," so the acronym is HI HAWG. To my knowledge, I am the only HI HAWG in San Jose and that is why I keep writing this column. So please patronize New Indian Cuisine for some take-out during this critical era. It's the quintessential hole in the wall with no pretense whatsoever. And they know what they're doing.
Even though I grew up across town, my mom and I spent a lot of time in Willow Glen when I was little. These days, using New Indian Cuisine as a jumping-off point, I can walk for 10 minutes in several different directions and pass by the house in which my mom grew up, houses in which her best friends grew up and/or still live in, plus the address at which I first took music lessons, my old babysitter's house and even places and/or people about whom I've written cover stories.
All in all, after traipsing down Willow from the badlands near downtown, then underneath the hideous Route 87 overpass and eventually into the more quaint neighborhoods, I felt like Albert Camus when he returned to Tipasa, a place of his youth, only to notice how different it was, yet realizing it was still a part of him. Willow Glen is not the same as it was during my own youth, but after this walk, like Camus, I am older and wiser and I can report back with near-transcendent gratitude for all the stories it has given me. The neighborhood is in my DNA. I can say this only because I remember what Willow Glen felt like before all the yuppies arrived.
In this COVID-19 era, within me there lies an invincible summer. We will get through these times. We will.