Features & Columns
Silicon Alleys: Dark Dispatch
Bob Calhoun's new book reflects on Silicon Valley's place in the region's gory history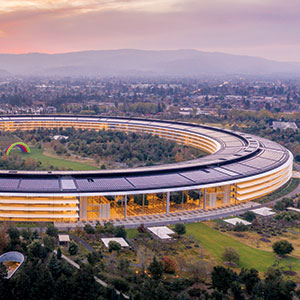 The dark history of Cupertino has resurfaced thanks to author Bob Calhoun, whose new book cooks up a bouillabaisse of carnage.
At least a few chapters of The Murders That Made Us: How Vigilantes, Hoodlums, Mob Bosses, Serial Killers, and Cult Leaders Built the San Francisco Bay Area (ECW Press, 2021), are dedicated to the South Bay. In one called "The Technological Divide," Calhoun recounts one of Cupertino's darkest moments, 10 years ago, when Steve Jobs passed away the same day Shareef Allman went on a shooting rampage at the Lehigh Permanente Quarry before taking cops on a manhunt through suburbia, only to off himself in nearby Sunnyvale.
The juxtaposition of events that day provided a ghoulish depiction of Silicon Valley.
If you take Stevens Creek Blvd toward its very end in Cupertino, you can then navigate a few different roads toward the quarry. It's out there in the badlands between open space preserves, county parks, hiking trails and Stevens Creek Reservoir that the scene takes place. This is the southwestern fringe of Silicon Valley, where the cold green shadows of the Santa Cruz Mountains begin to envelop the landscape.
Early in the morning of October 5, 2011, Allman showed up to his quarry job and gunned down three employees while wounding several others. Later that evening, he was still at large, fleeing the police all through Cupertino, forcing residents to shelter in place, right as cultic Apple fans poured into the neighborhood because Steve Jobs had just passed away.
"I'm morbidly watching it like a monster movie, because people are locked down," Calhoun says, recalling the militarized police who roamed the suburbs, looking for Allman.
Then, on another channel, mourners were leaving gifts, iPods and tea candles at 1 Infinite Loop, Apple's headquarters at the time. "I'm watching the side-by-side news reports," Calhoun said. "The satellite trucks are all in Cupertino already because of the shooting. And then there's just even more reporters. The worst fortunately did not happen. Allman didn't come across people mourning Jobs. It didn't escalate that way."
Even today, the poetic irony of the situation should not be lost on anyone. The quarry, which goes back to at least WWII, is still a controversial operation. Aside from dumping all sorts of pollutants into the environment for decades, the quarry also provided most of the cement that paved over the orchards in Santa Clara County to create what we now call Silicon Valley.
When Allman was finally caught and cornered on a nearby Sunnyvale side street—a tranquil suburban hamlet of '60s tract houses, juniper bushes and portable basketball hoops—he was only one block across Homestead from where the new $5-billion-dollar Apple spaceship headquarters would soon emerge.
"It was a weird confluence of events," Calhoun says. "I don't think it's anything supernatural, but it always fascinated me." Then there was the juxtaposition of Jobs' funeral with the memorial of the quarrymen who were killed. The private gathering for Jobs drew the likes of Al Gore, Bill Clinton, Larry Ellison and Bill Gates. By contrast, way over at Oak Hill Cemetery in San Jose, a few hundred people showed up to mourn the lives of the workers Allman killed. The event became a raucous party.
"It's almost like you have the techie South Bay, and then you also have this working-class South Bay, San Jose, Cupertino, that exists less and less," Calhoun says. "There's less and less of those jobs, less and less space for people doing those jobs. And they are not able to afford to live in Cupertino or San Jose anymore."
Most of The Murders That Made Us happens in other parts of the Bay Area, although Calhoun does include the Saint James Park lynching and the Milpitas homicide that triggered the film, River's Edge.
The South Bay is unique, Calhoun says. With endless freeways stretching across the landscape and more open spaces to dispose of dead victims, Silicon Valley is attractive to killers from San Francisco and the East Bay.
"It's more of a crime of opportunity," Calhoun says. "All of a sudden, there's the opportunity to drive a long drive along 17 or 280 and dump these bodies."
Bob Calhoun's 'The Murders That Made Us' was released this month by ECW Press and is available for purchase through the publisher or Amazon.