Features & Columns
Silicon Alleys: A Tramp Through Chaplin's World, From San Jose to Switzerland
Exhibits at Chaplin's World pull visitors into the silent filmmaker's work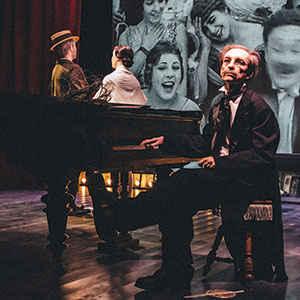 In 1915, when Charlie Chaplin made his short film A Night Out, the Tramp's exploits included some footage in downtown San Jose, at the Alcantara building, the red brick structure at Post and Market streets. It wasn't Chaplin's only appearance in this neck of the woods, of course. Some 20 years later, Chaplin would also visit his good friend John Steinbeck, while the author was writing The Grapes of Wrath in Los Gatos.
This means without even leaving my own neighborhoods I can walk in the Tramp's footsteps. Yet this wasn't enough. It's never enough. So, last month, it was time to "expand my outreach," as the power-networking gurus say, and go straight to the source: Chaplin's World, a museum unlike anything I've ever visited, in Corsier-sur-Vevey, Switzerland, on the property where Chaplin lived the last 25 years of his life before passing away on Christmas night 1977.
Inside Chaplin's World, one of the text panels gave me the best description of this column that I have ever read: "The Tramp is the eternal wanderer, at home on both country roads and in city streets. On his travels ... he mixes with all levels of society and has met thieves, drunks, fake pastors, penniless girls, insolent kids, street vendors, factory workers and the cream of society."
But there was so much more. Upon entry to Chaplin's World, one first sits in a small theater to watch a short film about Chaplin's life, after which the screen rises, allowing one to enter a mock London street environment, emulating where he grew up, with scenes from The Kid playing behind windows. The rest of the museum emerges in similar fashion, modeled like a series of film studios, with space after space resembling scenes from films like Gold Rush, The Circus, Modern Times, The Floorwalker, The Great Dictator or The Bank, while film montages play on screens. Text panels explain various stories behind the films, and viewers thus immerse themselves in Chaplin's World, so to speak.
The museum occupies one structure, while the second building, Manoir le Ban, where the family actually lived, is likewise transformed into a multistory exhibit space, filled up with even more photographs, exhibits, facts, figures and timelines. It is here that a wall-size multimedia display lets you click through portraits of all the 20th-century figures Chaplin befriended—everyone from Einstein to Gandhi. There's also a restaurant, aptly called The Tramp, with an old-school Hollywood vibe. It all sits on Chaplin's original 10-acre estate with amazing views of Lake Geneva and the Alps.
Of course, there's a dark side. During the McCarthyism era, Chaplin was banned from living in the United States by the conservative slobs in charge, who considered his lifelong sympathy for working class people, humanitarians and pacifism to be unpatriotic and worthy of investigation. With his family in 1952, Chaplin was aboard the Queen Elizabeth from New York to London, en route to attend the premiere of his film, Limelight, when the barbarians in DC revoked his return visa. After essentially building the American film industry, and living and working in the US for 40 years, he was no longer allowed to do so. To some, Chaplin was an ungrateful immigrant—an insult that slobs often hurl at various targets even today. As a result, Chaplin relocated his whole family to Switzerland, where he lived what, according to him, were his best years.
Later, Chaplin was knighted by Queen Elizabeth II in 1975. Six of his films are preserved at the National Film Registry of the Library of Congress, and to this day he holds the record for the longest standing ovation at an Oscar ceremony, at 12 minutes.
After spending time in Chaplin's World, one can even wander through the quaint village of Corsier, past markets, restaurants and theaters he frequented, and even follow placards to his gravesite. His last wife, Oona, who gave birth to eight of his kids and who died in 1991, is buried right next to him.
Standing there at the graves of Charlie and Oona, I felt nothing but gratitude for San Jose, California. At least the city hasn't thrown me out. Yet.