Features & Columns
Silicon Alleys: Old Chestnut
Beyond dead tractors and bulldozers, a tour of a forgotten pocket of San Jose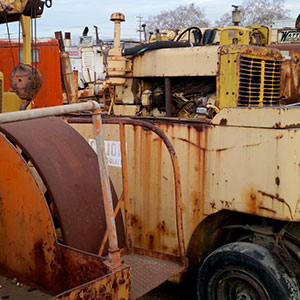 In a green color like freeway signage, the placard says Chestnut Industrial Center. Splotches of faded primer barely conceal the graffiti. Other, unidentified materials drip down the front of the sign, as if someone threw garbage at it.
I arrive at this sign after segueing off Coleman Avenue onto Asbury Street, which then dead-ends at Chestnut Street, centering me as I launch into one of San Jose's most picturesque industrial wastelands. Between Coleman Avenue and the railroad tracks, from Taylor Street up to Interstate 880, it's all here: Roofing, construction, building and landscape management, petroleum, concrete and collision repair.
The whole neighborhood is a forgotten little pocket of San Jose, a beautifully incongruous hodgepodge of business and residential with far more character than anything currently emerging downtown.
Parked along one street, I see a convoy of RVs, some of which are so old and janky, they look homemade. On another block, a rusted bulldozer track chain lies in the middle of the sidewalk for no reason. Down the street, an old blue European two-seater car sits in a parking strip with grass growing up through it. A scraggly white cat saunters nearby. I smell motor oil, distant marijuana smoke and suffocating paint from body shops.
Chestnut Street, running parallel to Coleman, is the main artery here, but the side streets in their ramshackle decay make the experience authentic and grounding. Also parallel to Coleman is the upper fragment of Stockton Avenue, separated from the lower fragment that begins The Alameda by Whole Foods. That lower part of Stockton now dead-ends at the College Park Caltrain Station, famously mentioned by Jack London in The Call of the Wild.
At College Park, pedestrians can no longer cross the railroad tracks and walk straight through to the rest of Stockton, so I must venture all the way around to Coleman Avenue and Hedding Street. From there, this crumbling backwater industrial part of Stockton, running northwest from the tracks to 880, I shall now deem "Upper Stockton." City Hall should make it official. If San Francisco can have Upper Haight, we can have Upper Stockton; it would make San Jose a real city.
If Jack London was alive today, he'd avoid downtown altogether and come to this neighborhood instead. After all, it is here that one finds San Jose's greatest and most glorious yard of dead tractors, bulldozers, rusted steamrollers and other construction equipment from decades ago. In fact, many of them are not even dead yet.
I'm talking about the Wattis Construction Co. If one walks along Stockton almost to where it dead-ends at 880, the yard will emerge, vast and gargantuan, even overwhelming, I might say. Yet much more photogenic than anything in the suburbs.
Don't get me wrong; people do live around here. Sandwiched between the wreckage, the jacked-up RVs, the body shops, cabinet wholesalers and forklift rentals, are several houses, many of which are not in bad shape. Just look out for pit bulls or Rottweilers in the front yards.
Midway through other blocks, though, I find single-story rows of detached bungalow apartments perpendicular to the street, harkening back to at least the '50s and with half-dead potted plants and satellite dishes everywhere, along with rural mailboxes at the sidewalk.
When surveyed as a whole, the neighborhood provides a gorgeously cluttered sense of historical continuity. Straight down to each parcel, '50s San Jose sits alongside 2020 San Jose. The street grid is leftover from before 880 existed, when Stockton and Chestnut went through to Newhall. I grew up looking at old street maps for fun, so I love this stuff, even if no one else cares. Better still, rarely does a pedestrian wander into this part of town, but I feel at home here.
As I roam the desolate industrial streets at sunset, the scene becomes cinematic. Red-orange expanses of light scream across the sky, forming a background to immense concrete manufacturing plants and fleets of cement trucks.
In one spot, an entire makeshift living room, replete with lawn chairs and a broken coffee table, emerges on the pavement outside an RV, where a grizzled dude in a painter's hat smokes a cigarette. Jack London would be proud.