Features & Columns
Silicon Alleys: New Book Explores Church of UFO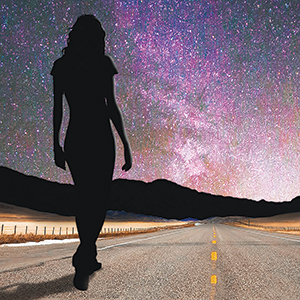 Publishing this week on Oxford University Press, a new book by Diana Walsh Pasulka, American Cosmic: UFOs, Religion, Technology, begins with Pasulka riding in a car from San Francisco to Silicon Valley. Jacques Vallee, perhaps the most well-known UFO researcher over the last 50 years, is behind the wheel. On the way, Vallee tells her, "These are the hills of Silicon Valley. There are many secrets in this valley."
Pasulka, a professor of religious studies at the University of North Carolina Wilmington, will speak about American Cosmic on Jan. 17 at Cubberley Theatre in Palo Alto, sponsored by the Commonwealth Club-Silicon Valley, at 7pm. She is not a current or former government agent or conspiracy theorist. Instead, she analyzes the UFO phenomenon from an academic religious studies perspective, meaning she studies the resulting effects rather than whether or not anything is true. She also takes the approach of a media archaeologist in that she uses examples of forgotten media from previous eras to help examine how the current media landscape of cinema, TV and social media exacerbates and distorts the phenomenon. More than anything, American Cosmic suggests that with the UFO phenomenon we are witnessing the initial stages of a new flavor of religiosity. Like Jung suggested, we're in the middle of a new myth as it's being created.
"I think of the Protestant Reformation and how it was kind of instigated by the printing press," Pasuka tells me. "So technology impacts religion, and it changes religion and creates new religious forms. So I realized that the digital environment was creating a new form of religion and it was taking the form of this kind of UFO religiosity."
But what separates American Cosmic apart from the current UFO hysteria is that Pasulka spends entire chapters with world-famous scientists, academics and/or high-profile public figures who believe in extraterrestrial intelligence and have been studying it for years, but who operate underneath the radar, out of the public eye. In the book they remain anonymous because of the stigma associated with UFOs. They fear being ostracized or losing their reputations.
Someone going by the name of Tyler, for example, whose public identity would most likely be known to everyone, invites Pasulka to a supposed crash site in New Mexico—not Roswell, but another site—and requires her to arrive blindfolded, only to then discover alloys and artifacts that later cannot be identified by scientists as anything created by the laws of physics. Other chapters provide specific examples of true believers whose lives are changed by their experiences with nonhuman intelligences, much in the same way that Catholic apparitions have functioned over the centuries. Yet this is a religiosity with no borders and no defined denominations.
"There are people who believe in a higher intelligence that has contacted us, or is in contact with us, or has given us these artifacts, these parts, UFO crashed parts, and we're back engineering them and they're somehow helping us evolve," Pasulka says. "So it's linked also to this concept of the evolution of the species, the survival of the species into space—this type of thing that's really, really big in Silicon Valley."
All of which, to Pasulka, seems similar enough to the early stages of Christianity in that certain people in positions of power have an interest in shaping the narrative for future's sake, and specific communities are declaring that their version of the religion is the universal version. The difference is that the UFO phenomenon can be articulated as something characterized by technology we don't yet fully understand but which many scientists are actively studying, so it feels like hanging out in Judea 2000 years ago, with researchers on board striving to prove that these events did in fact happen.
"In most religions, you have things that guide the people, faith in something unseen or unknown," says Pasulka. "And faith is what we call that relationship to something you can't prove. Well, we could possibly prove this. So there is a semblance of truth here. And since there is a semblance of truth, it gives this kind of religiosity a bit that the other religions just don't have. So we're in a new territory."
commonwealthclub.org