Features & Columns
Silicon Alleys: Makers' Market
A tour back in time of the grocery stores that helped make San Jose what it is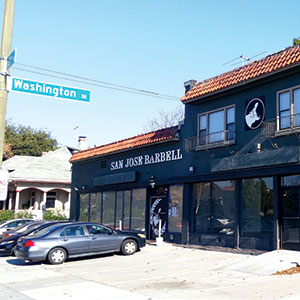 With people hoarding paper products or refusing to follow basic safety measures, the obnoxious behavior of certain individuals in grocery stores can turn any columnist into a Scrooge.
But in the spirit of the season, rather than lose faith in human potential, I imagined the Ghost of Christmas Past taking me on a tour of long-gone San Jose grocery stores back when life was simpler and small businesses could overcome non-pandemic-related obstacles to succeed. I found that at one point, family-owned markets were exponents of San Jose's character. This was a great history lesson. I found hope for the present and the future.
The Walgreens at 17th and Santa Clara streets was the starting point for my tour. A pleasant historical plaque graced the front of the building that, in its initial 1932 incarnation, housed Fredkin's Market. The Fredkins were natives of Russia and also had a market at 1065 The Alameda. They eventually sold their stores to Herbert Bettencourt, who started a group of markets under his own name.
In later days, another Bettencourt's existed at the celebrated intersection of Bascom Avenue and San Carlos Street, out near the unincorporated badlands of the Burbank District. The curvy strip mall is set back from the corner. In there, Bettencourt's filled the site that later became Thrift Village and then Savers. It's now a Dollar Tree store.
This is the same strip mall that houses the legendary dive bar, Alex's 49er Inn and the same mall that for decades held space for Time Deli. Oddly, the street that curves through the sun-cracked parking lot is called Business Circle, a very Silicon Valley sounding name. Most of Business Circle is open for, um, business, including the Dollar Tree at 2222 Business Circle. What an address. It sounded almost conspiratorial.
Bettencourt's operated when San Jose was closer culture-wise to Mayberry than Silicon Valley, as did the legendary Franco's, right where City Hall now stands.
Brothers Henry and Joseph Franco first opened up a small market on Santa Clara Street between Fourth and Fifth streets in the early '20s before moving into a larger supermarket at the corner of Fifth and Santa Clara streets a few years later. It was there for decades. They later opened up a few more stores, including one at 13th and Washington streets in the building that's now San Jose Barbell, kitty-corner from the defunct dive bar, The Derby, which was "where friends meet."
The Francos had a third location at 1345 The Alameda, between Shasta and Hanchett avenues. That building likewise still stands. The Francos' cousin, Joey Franco, started PW Supermarkets, of course. All of them are now gone, but his legacy remains.
And then there's Dick Yee. I have celebrated his story in this space several times.
At one point, the Yee family presided over 15 Dick's Supermarkets throughout the South Bay, but the first one was at Fourth Street and Younger Avenue. That was over half a century ago, and it was most recently a Viet market with a huge seafood section. The building is still there, Vietnamese label scars and all, but not for long—demolition work has started for much-needed supportive housing that will sit walking distance from two longtime San Jose institutions, the Hunan Taste Restaurant and the Hyde Park Lounge.
The Ghost of Christmas Past also made sure I recalled skateboard maneuvers that were pioneered in an Alpha Beta parking lot in South San Jose. Famous skaters from high and low came to San Jose for that grocery store and in particular that parking lot.
As the tour came to a close, other grocery proprietors emerged from the ether to remind me of their roles in the growth of San Jose commerce: Cosentino, Dobashi, Aiassa—all of them overcame various obstacles and contributed to this valley.
I am inspired by these stories, all of which demonstrated tremendous human potential in making San Jose a better place—even that Alpha Beta parking lot.
Thanks to the Ghost of Christmas Past, I can now respond more skillfully to obnoxious clods in the grocery store when they make me feel like a Scrooge. I have nothing but gratitude for what came before, and what this town can someday become.