Features & Columns
Silicon Alleys: How a House in San Jose Inspired the Beat Generation
Neal and Carolyn Cassady's Santa Clara Street abode was the site of many Beatnik shenanigans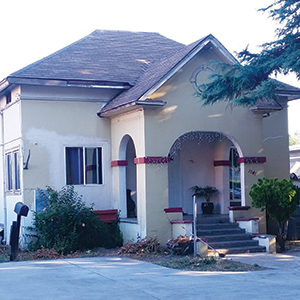 A new book of lost imagery from the Beat Generation has emerged, triggering this columnist to reflect on those celebrated literary troublemakers, some of whom spent some serious time here locally. The Beat Scene: Photographs by Burt Glinn is a landmark collection, much of which is in color. A successful photographer on numerous fronts, Glinn took the shots between 1957 and 1960 in San Francisco and New York. All the usual suspects are included.
Now, since Neal Cassady's old house still exists at 1047 E. Santa Clara St.—the sizable den of iniquity he shared with his wife Carolyn and their three kids in the early '50s—I feel obligated to foreground the history for Metro readers who may not have flipped through Allen Ginsberg's journals, Jack Kerouac's letters or Carolyn's book, Off the Road. That house was legendary. If only the walls could talk.
Neal was the uncontainable genius and prime culture jammer behind much of the Beat Generation. Among many other sordid escapades, he was immortalized as Dean Moriarty in Kerouac's novel, On the Road, and also drove the bus for Ken Kesey's Merry Band of Pranksters. To this day, his legend lives on, with much exaggeration, all over the world.
In August of 1952, Neal and Carolyn arrived in San Jose, "a city then aptly nicknamed 'Nowheresville,'" she wrote. Neal was holding down a job at Southern Pacific Railroad while planting marijuana seeds in the flowerbeds. This was back when phone numbers were identified by two letters and five digits. Theirs was CY 7-0295.
Kerouac stayed with the Cassadys several times during the few years they lived on Santa Clara Street, with Carolyn and Jack famously having a passionate affair. Flavors of this love triangle were immortalized in Kerouac's novel, Big Sur, one of his best books. Decades later, Carolyn spilled the rest of the lurid yarn in Off the Road.
But not everything was hunky-dory. As the story goes, Neal and Carolyn were deeply engaged with the metaphysics of Edgar Cayce, which did not resonate with Kerouac, who was already looking eastward for inspiration. As a result, it was in San Jose that Kerouac stole a copy of Dwight Goddard's A Buddhist Bible from the San Jose Public Library, a book that became one of his first major conduits to Buddhism, leading to his embrace of the Dharma for years to come. Don't ever discount the importance of libraries.
When Ginsberg finally showed up in San Jose to stay with the Cassadys for several weeks in 1954, even more drama unfolded. The Cassadys took him to goofy hypnotist parties in Sunnyvale, and Ginsberg even wrote of meeting "spinster old lady Rosicrucians." What's more, Ginsberg was madly in love with Neal. They'd already consummated encounters going back years, and by the time Ginsberg made it to San Jose, he was scribbling masochistic fantasies. Lucky for us, Ginsberg was so bored with Nowheresville that he filled several pages in his journals.
The now-infamous interlude described in various books went down in August of 1954. As Carolyn wrote it, she walked in on Ginsberg and Neal, in Ginsberg's room, engaged in the act, after which she then retreated back to the living room, horrified. A few days later, she dropped Ginsberg off in San Francisco along with some pocket change and sent him on his way.
Nevertheless, Ginsberg wrote some seminal poems while staying at the Cassady house. He wrote, "Love Poem on Theme by Whitman," in which he fantasized about a threesome with Neal and Carolyn. "In Back of the Real," found him wandering desolate in the old San Jose railroad yard, only to equate a discarded flower with the universal struggle for beauty and hope against the wreckage of the landscape. "In Back of the Real" inspired at least a few dozen of my columns over the years.
At minimum, a plaque should be installed at 1047 E. Santa Clara St. I doubt the current owner would mind. Certainly the property value would increase. Certainly fans from around the world would visit. Will the Nowheresville City Council ever understand these things? Like Ginsberg's discarded flower, we can only hope.