Features & Columns
Silicon Alleys: Almost Famous
Silicon Valley's Indian Food scene draws out Raj De Niro, a secret celebrity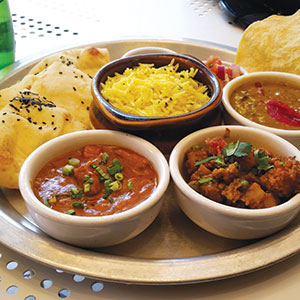 Punjab Cafe on Santa Clara Street can take credit for crystallizing the phenomenon of Raj De Niro.
When the restaurant first opened, it was a narrow corridor with room for just a few tables. Then it expanded, taking over the space next door, as the owners turned the original corridor into a fledgling ice cream operation that never materialized, so that original space sat empty. I would waltz in for the lunch buffet on a regular basis, sometimes twice a week—so much that if the main floor was filled up, they would let me sit in the old narrow corridor next door, essentially storage space off limits for anyone else.
I'd sit there by the window, facing Santa Clara Street, feeling like Robert De Niro with his own private table in some hip Manhattan restaurant. It was fantastic. It made San Jose feel like an urban place, for once. Since I have no Italian blood whatsoever, I became Raj De Niro instead.
Thereafter, even when dining in the main space, I became Raj De Niro. I could devour a plate from the lunch buffet and pretend I was a celebrity. City Hall employees showed up all the time. One politician, along with his handler, would come in for lunch, only to sit as far away from me as possible, since he didn't want a table next to a member of the media. As a native San Jose dude, Raj finally felt a sense of accomplishment.
Raj then infiltrated various Indian restaurants throughout the valley.
Most recently, he surfaced at the trendy Curry Up Now in Palo Alto, and then at Lahori, a humble yet amazing Pakistani joint in the crumbling environs of 25th and Santa Clara streets. At polar opposite ends of the socio-economic spectrum, both places offered outstanding grub, but Raj De Niro has an attitude, so he couldn't help but scowl at whatever absurdities happened to interrupt his meal.
At Curry Up Now, for example, Raj ordered a thali called the American Punjabi and a bottle of Perrier. They were perfect together, even if the privileged brats at the table next to him didn't seem to think so.
"Of course I can drink French water with my Punjabi meal," he thought. "Maharajah Ranjit Singh, the Lion of Punjab, the military genius who united the entire Sikh Empire in the early 19th century did so with the help of Napoleon's former generals. (True story. The Franco-Punjabi connection goes way back. Go look it up.) Who cares what these Palo Alto kids at the next table are thinking? I'm not square. They're the ones that are square."
And then there's Lahore. Before the British violently carved up South Asia, causing a million deaths and 10 times more refugees, Lahore was Northern India's cultural capital, a diverse cosmopolitan epicenter of music, poetry, film, architecture and all flavors of arts intelligentsia. When Raj De Niro learned of a restaurant called Lahori in East San Jose, he just had to make an appearance.
He showed up on May 5, fully knowing that Cinco De Mayo cruisers would be clogging up miles of Santa Clara Street in both directions, shrieking back and forth with dope-smoking sidewalk lurkers in oversized sports clothing. He knew this, yet he didn't plan on the sheer number of distorted truck stereos shaking the restaurant building every five minutes.
All Raj wanted was a sense of someplace to go. He didn't need to devote himself to morbid self-attention. He just wanted to attain peace while putting away some murgh chicken cholay, garlic naan and a few cups of tea, all of which were phenomenal, by the way.
Even worse, during his meal at Lahori, shots rang out on the 900 block of Santa Clara Street, just a few blocks down. Raj later found out it was indeed a homicide. What was wrong with these idiots? What did it take for a man to enjoy his meal these days? Such was life in the "Capital of Silicon Valley."
Nevertheless, Raj will continue his journey. From now on, no Indian restaurant is safe from Raj De Niro. Downtown, uptown, he'll work anytime, anywhere.