Features & Columns
Silicon Alleys: At 60, KFJC Keeps College Radio Sounding Fresh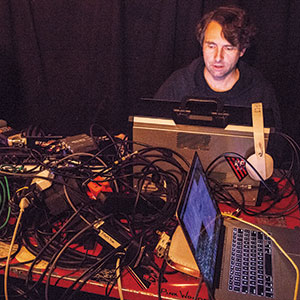 When I first started listening to KFJC 89.7 FM in the mid-'80s, diamonds were nowhere to be found. It was the height of the college radio era, when "alternative" still meant alternative and the station at Foothill College featured the most forward-thinking, provocative, blasphemous and necessarily unpredictable music programming anywhere.
I'd hear thrash metal, surf, reggae, film noir, Wayne Newton at the wrong speed, ukulele music and children's instructional records from the '40s all on the same program. Or maybe all at the same time. I didn't even know where Foothill College was, but that didn't seem to matter.
This year the station celebrates its 60th anniversary—its diamond jubilee, so to speak. The first words uttered on that station were in 1959, when the original station manager broadcasted from a broom closet at the old Foothill campus on El Camino Real in Mountain View. The official anniversary won't arrive until October, but I'm already celebrating because I wouldn't be the twisted wacko I am today without KFJC. In my teens and early 20s, that station turned me onto countless bands and eclectic music that I would never have discovered otherwise. It helped that we all shared a thorough disdain for how commercial FM radio bludgeoned to death the same old catalog of hits over and over. I never had my own show on KFJC, but it always felt like I did, especially in the '90s, since I seemed to know many people that came through there, some of whom still occasionally show up for fill-in shifts, and many of whom I'm still connected to. A few of them have been at KFJC for decades. They aren't merely two-year junior college students having a quick go at it. The joint has serious staying power. When I rolled in a few years ago, I spotted books, fliers and other ephemera lying around that I remembered from 20 years earlier.
KFJC has hit various milestones over the last 60 years, but one in particular is always fun to contemplate. In 1978, right as punk was first hitting the Bay Area, the general manager wanted to force-cram a more mainstream, tightly formatted approach to programming, in the vein of commercial stations. This did not go over very well. Five student managers overthrew the GM and literally took over the station, waving the banner of punk, an attitude that hasn't faded one smidgeon.
Other college stations around here also deserve plaudits, of course, but I've felt like family at KFJC, off and on, ever since I first started listening. When the original SoFA District micro-scene exploded in downtown San Jose in the early '90s, it seemed like every band I drank with regularly visited KFJC to play on the air or talk about something. And when touring bands came through, they seemed to always stop at KFJC on their way to gigs in downtown San Jose. At the time, now-defunct San Jose clubs like Marsugi's seemed like "KFJC East"—you know, like the Fillmore East. Other college stations also sponsored shows, but simply put, KFJC did things and still does things unlike any other station.
Even better, these days any smartphone allows me to immediately pull up the live stream. I can see which human beings I just missed, or which human beings will soon be playing the next music. KFJC is like that. It's a human kind of place.
What's more, this year marks the silver anniversary of when KFJC first started doing live remote broadcasts from out-of-state locales. In 1994, KFJC went to SXSW in Austin to broadcast from the legendary music conference, which was just starting to pivot toward a more interactive and digital focus, since the World Wide Web was just beginning. I don't remember any other local college radio station thinking about stuff like this in 1994. Now, 25 years later, KFJC has accomplished nearly a dozen international remote broadcasts from festivals or events in places like Berlin, Tokyo and New Zealand. They've come to us live from the Liverpool International Festival of Psychedelia, the Eindhoven Psych Lab in Holland and the Surfer Joe Summer Festival in Livorno, Italy. As 2019 unfolds, expect even more diamonds from the rough.