Features & Columns
Silicon Alleys: Krazy George Earns Spot in SJSU Sports Hall of Fame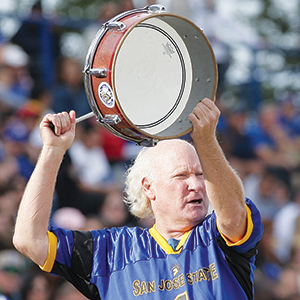 On pages 94 to 97 of Krazy George's book, Still Krazy After All These Cheers, old grainy photos accompany a March 1974 story he tells about a hockey game between the Boston Bruins and the hometown Oakland Seals. Not even 30 years old at the time, George bashed on his trademark snare drum and verbally insulted the visiting Bruins players during the game.
He wasn't getting paid for his talents that night, so he was not yet "pro," as they say, but George's actions riled up a few drunk Boston fans in the crowd, triggering a brawl, and also coerced Bruins legend Terry O'Reilly to climb the glass and swing his stick at Krazy George. O'Reilly's teammates, including Phil Esposito, soon followed him up the glass, but did not ultimately enter the audience. They knew better.
"This was the only time a player actually attempted to come into the stands after me, and my career hadn't even officially begun yet," George wrote.
By now, without exaggeration, tens of millions of people have experienced the antics of Krazy George since he started his cheerleading exploits at San Jose State football games in the late '60s. When the original incarnation of the San Jose Earthquakes began in 1974, George was there from the very first game and became an integral component of the fan experience. To date, the list of teams that hired him takes up several pages. George has bashed his drum at every event from World Cup soccer matches to Odessa Jackalopes minor league hockey games. Today, at age 74, he still shows up at Spartan Football matches and San Jose Earthquakes games.
Since George began his insane journey right here in San Jose, where he also taught electronics at Buchser High School, he will be inducted into the SJSU Sports Hall of Fame this Friday night, joining the ranks of Tommie Smith and John Carlos, NFL coaches Bill Walsh and Dick Vermeil, quarterbacks Steve DeBerg and Jeff Garcia, plus Peter Ueberroth, Ken Caminiti and zillions more. For the ceremony, each 2018 inductee is listed along with the years in which he or she participated in SJSU athletics. For example, golfer Lisa Walton (1991-94) helped the Spartans clinch their third NCAA Women's Golf Championship in five years, and Green Bay Packers wide receiver and Super Bowl XLV winner James Jones played football at SJSU from 2003 to '06. In George's case, the notes say: "Krazy George, cheerleader (1968 to the present)." That is a staggering statistic.
Just about every other month on Facebook you'll find some distant old-timer asking if Krazy George is still alive. We in the know are quite aware that George never really left. Everyone has a story about him, especially when he was a young dude at San Jose State football games half a century ago.
"Back then they used to pass him down over the crowd on a plywood board," said Dave Obenour, who later became the trainer for the San Jose Earthquakes starting in 1974. "The fraternity guys would bring him down, and then he would bang his drum and cheer."
Throughout the original Earthquakes era, Obenour and George became good friends with many of the players, and later in the '80s, George owned a sports bar in Aptos called "Krazy's." Everyone would stop by to keep in touch and talk about old times.
This columnist grew up in Section G at Spartan Stadium, watching Krazy George rile up the crowd at San Jose Earthquakes games. He regularly staged grand-scale appearances right before kickoff. He'd land in a helicopter or enter the field in the back of a hearse. He'd arrive in a police car or while riding a camel. Fans waited in anticipation because they never knew what to expect. It was different every time.
"People really think George is crazy," Obenour said. "But down to earth, that guy is probably the most easy-going person. I'd say he's actually a little bit shy, but you give him that drum and that beater thing, [and] he just goes nuts. He's 360 from being crazy. He's a very literate guy and he was a great teacher. His niche in life was to get people going, excite them, cheer and root for a team. And he did that tremendously."