Features & Columns
Silicon Alleys: Edge East
San Jose, without freeways. A winding road from Coyote Valley to Milpitas, east of 101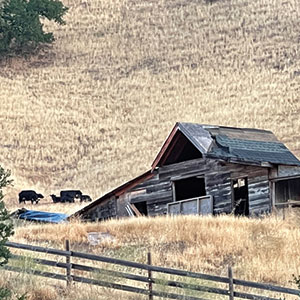 Gazing down 13th Street from where it ends at the corner of Margaret can feel like a mystical experience. From this intersection, one can drive almost all the way to Morgan Hill without leaving the same contiguous city street.
What?—I hear you cry. Yes, this is true. Even better, it's a uniquely San Jose experience, yet one that requires a car, and one much better experienced in reverse, so that's what I did, beginning at the convergence of Metcalf Road and Monterey Road—the southern fringe of San Jose.
From there, Metcalf veers northeast as it crosses 101, before climbing a steep grade into the hills past the motorcycle park where it then flows into San Felipe Road. At this point, by any definition, you're in the middle of nowhere. Google claims the intersection of Metcalf and San Felipe is located in "San Felipe, CA, 95138."
Heading north from the hills, San Felipe evolves into a pleasant, woodsy, oak-lined road, although one known for numerous urban myths and hauntings. Don't drive this stretch at nighttime. It can get spooky.
Eventually, though, San Felipe passes The Silver Creek Valley Country Club, The Villages and Evergreen College before flowing into White Road, which then blazes through huge swaths of east-side suburbia including several institutions like Mount Pleasant High, James Lick High, and the notorious Gaslight bar.
If you keep going, White Road becomes Piedmont Road, forming the northeastern fringe of San Jose as it fades into Milpitas, with the city on the left and the golden straw-colored hills on the right. The two streets did not always connect. As the sprawl began to fill in over the decades, it became necessary to reroute Piedmont so that it turned into White Road at Penitencia Creek Road.
As you continue north, Ed Levin Park is not too far away. You'll see ranch land still remaining from half a century ago, plus "no truck parking" signs and spandex-clad cyclists on their way to a treacherous ride in the nearby hills.
Piedmont Road then curls into Evans Road, which heads due west and crosses 680 to become Jacklin Road, close to Milpitas High School and the northern fringe of Santa Clara County. In the old days, the buses from Alameda County even came down this far. That's how much of a wasteland it was.
Jacklin then turns into Abel Street and veers due south. The Abels were one of the royal bloodlines of Milpitas. Henry C. Abel was a local meat industry pioneer.
At this point, though, you're back in civilization again and close to several killer Indian restaurants. Abel continues south past the Great Mall and then flows into Oakland Road, which continues all the way back into San Jose. Oakland Road crosses 101 and then becomes North 13th Street. Are you following me? Good.
In pure San Jose fashion, Oakland Road used to be called Old Oakland Road. Before 880 existed, this was the only way to drive from San Jose to Oakland. Somewhere over time, not even that long ago, the name was shortened to just Oakland Road instead. All the signs look relatively new. A stretch of road formerly characterized by sporadic mobile home parks, potholes and crumbling industrial fare is now halfway filled in with all the hideous, embarrassing stripmalls that make land use lobbyists proud of San Jose. Chase Bank, Chipotle and Subway work wonders to sell new real estate, of course.
North 13th Street is much more tolerable as it comes back down into some of San Jose's oldest neighborhoods. The stretch between 101 and Backesto Park is a gloriously incongruous working-class hodgepodge of retail, industrial, food and drink. Some of these buildings are more than a century old. It's a great corridor to traverse on foot also.
From there, keep driving south and you're into the residential Naglee Park neighborhood near SJSU, where 13th Street comes to its quaint conclusion.
Who needs 49-mile drive in San Francisco? From the intersection of Metcalf and Monterey Road all the way to 13th & Margaret, you get the good, bad and the ugly of San Jose, although I'm not quite sure in which proportions. In any case, I'll take it.