Features & Columns
Silicon Alleys: Native San Joseans Play Harmonious Homage to Their Hometown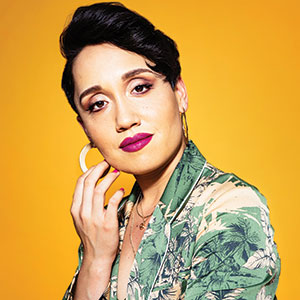 Last week, a dazzling matrix of native San Joseans wrote songs, played music in the streets or threw together musical events over a span of two days, part of which constituted San Jose's contribution to the annual Make Music Day Friday. With such a wide variety of music emanating from people born and raised in San Jose, the anti-man-about-town came away a little less anti.
On Thursday, San Jose native Jackie Gage officially released the song she wrote for San Jose last year, the one she debuted to serious acclaim at the 2018 San Jose Jazz Summerfest. Last year, she sold out Cafe Stritch and filmed a video with several local personalities included. Titled "A Secret Place," the song is an authentic piece of poetry, one that clearly originated from the heart, the mind, the soul and the streets. Any colorful or interesting person who's lived here for decades related to Jackie's sentiment when referring to San Jose as "a secret place." We knew exactly what she meant.
Thursday Jackie gigged at Rootstock Wine Bar in Los Gatos, where upmarket types nibbled on stuffed mushrooms and bruschetta trios, talking all through her performance while Jackie sang Bob Marley, Bill Withers and Tracy Chapman before breaking into "A Secret Place." Jackie now lives near Manhattan, but regularly gigs in San Jose a few times a year.
Later that night, another gifted local singer delivered a dose of new music. San Jose native Amy Dabalos hosted a listening party for her new album and even screened a new video at The Continental, a club on South First Street owned by the legendary Sam Ramirez, also born and raised in San Jose. In fact, I remember when he bartended down the street 29 years ago. Amy's video, "Like You," was a potent affirmation of women's empowerment, agency and authenticity, a tune celebrating diversity of culture, thought and movement, an anthem for women of all ages, colors and persuasions everywhere. As one would naturally expect, the party was likewise a glorious multiplicity of shades and identities. Never before have two amazingly talented local women vocalists both released such relevant new material on the same exact night, one after the other. Both of them really do deserve to explode nationwide and achieve major success. It would help show that there really is a there there in San Jose.
The next day was Make Music San Jose, a free outdoor day of sounds held on the summer solstice with performances and music-making events happening citywide from dawn 'til dusk. There was no way to catch everything, but at least downtown, the point was to experience local stuff that even the locals refuse to acknowledge.
That said, by sheer chance I experienced even more heroes, Mariachi Azteca, playing along Paseo de San Antonio, with the logistical encouragement of San Jose native Chris Esparza. The group performed in front of Philz Coffee before moseying down the plaza to play in front of Circle-A Skate Shop. As Esparza and I watched the mariachis, we began to catch up on old times, reminiscing about the legendary Ramones shows in the late '80s at One Step Beyond, back when Esparza was one of the bouncers. Punk memoirs and international museums have all mentioned those shows, putting our geographic area on the map all over the world.
Finally, there was Maestra Barbara Day Turner of the San Jose Chamber Orchestra, whom I first met almost 30 years ago when she commissioned my music professor, Allen Strange, to compose a piece for harpsichord and live electronics. Last Friday, she spent all day at City Hall conducting several dozen songs about San Jose, including Jackie Gage once again performing "A Secret Place," this time inside the rotunda, with the chamber orchestra. The whole shebang was part of Barbara's "My San Jose Song" project for the city's Creative License Ambassador program, in which she curated a concert of original 60-second songs written by community members, with a few ringers thrown in for good measure. Jackie sounded phenomenal in the rotunda.
All in all, it was a gorgeous couple days of live music written by, for and about San Jose. What great potential for promoting our city.